Normal Pregnancy – General OB
Services
DMC Women and Infant Services offer complete and comprehensive care for you and your unborn child. Leading researchers and practitioners are at the DMC, providing the best care with the most advanced technology.
Our obstetrics experts provide, perform and/or treat the following:
Advanced Care for Newborns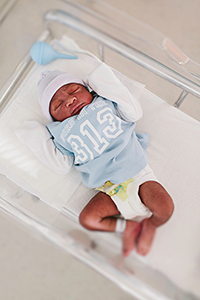 Physicians throughout Michigan refer their high-risk obstetrics patients to DMC Women and Infant Services, in part because of the world-class neonatal care available here. With nationally recognized experts and innovative diagnostic tools and therapies, no hospital in Michigan provides more advanced care for newborns.
Special Care Nursery
A step below the level of advanced care available in our Neonatal Intensive Care Unit (NICU), the Special Care Nursery at Hutzel Women's Hospital provides specialized care and monitoring for newborns who are facing complications during their first days of life. The Nursery is staffed by specially trained nurses and respiratory therapists and is prepared for several therapies, including IV therapy, oxygen, nutritional therapy and phototherapy.
Babies in the Special Care Nursery are typically larger and stronger than newborns in the NICU, but they often face significant medical challenges and usually require some combination of IV therapy, oxygen and antibiotic treatment. In addition, broader nursery care is available for babies whose mothers are in the Maternal Special Care Unit or are recuperating after a C-section, and babies entering foster care may also receive this level of care.
Neonatal Intensive Care Unit
The Neonatal Intensive Care Unit (NICU) at Hutzel Women's Hospital provides advanced care to critically ill newborns and premature babies - some delivered as early as 23 weeks. Whether they are born at Hutzel or transferred from other hospitals, infants here receive multidisciplinary care from southeast Michigan's most experienced NICU team.
Our Multidisciplinary Team of specialists includes:
Physicians specializing in Neonatology
Registered nurses with extensive training in newborn care
Neonatal nurse practitioners
Neonatal clinical nurse specialist
Neonatal pharmacist
Respiratory therapists
Learn more about "Who's Who in the NICU."
NICU vs. Special Care Nursery (SCN)
At many hospitals, critically ill newborns are treated in the same unit as babies who simply need specialized care and monitoring. DMC Hutzel Women's Hospital is different, our NICU is reserved for critically ill infants, leaving our Special Care Nursery (SCN) to provide care and monitoring for newborns facing complications during their first days of life, but not critically ill.
100% Medication Scanning
DMC Hutzel Women's Hospital NICU was the first to achieve 100% medication scanning. Every baby in the NICU wears an individualized barcode bracelet to prevent dangerous medication errors. Before a nurse can give medication to a patient, the medication and the barcode bracelet must be scanned to verify it's the right patient, the right medication and the right dose. The DMC won a prestigious award from Healthcare Informatics magazine for this innovative medication scanning process - beating out Johns Hopkins Hospital for that year's most important electronic healthcare innovation in America.
Anesthesia During Delivery
Since women experience labor in a variety of different ways, some women may ask for help to make their labor more comfortable. We encourage you to discuss your options with the Anesthesia/Obstetrical team.
What you feel in labor is related to the stimulation of the nerve fibers, which surround the uterus. To relieve the pain, these nerves can be soaked in numbing medicine which is similar to that used by the dentist. A small plastic tube can be placed into the epidural space, which is a part of your spinal column, where the nerves pass through. Numbing medicine can be given into the space to decrease the pain. You may still feel the pressure of the contraction, but you should be much more comfortable.
Several different types of anesthesia are used during Labor and Delivery. They may be used alone or with one another. Some of the anesthetics used are:
Epidural Anesthesia
General Anesthesia
Local Anesthesia
Pudendal Block
Sedation Narcotics or Tranquilizers
Spinal Block
Your choice of anesthesia will be influenced by various factors, including any medication you are taking, history of lower back problems, allergies, any oral medications taken recently, family history of high fevers with anesthesia and a history of medical problems such as heart disease, high blood pressure, breathing problems, recent cold or flu, diabetes (blood sugar) or bleeding problems.
Ectopic Pregnancy
Ectopic pregnancies can be scary, especially if symptoms happen before you know you're pregnant. They occur when a fertilized egg implants outside of the uterus. There are different types of ectopic pregnancies depending on where the egg implants, but all ectopic pregnancies can be life-threatening so it is important to seek treatment quickly if you begin having symptoms.
Your risk of an ectopic pregnancy can be higher if you have used an intrauterine device (IUD) for family planning, a history of pelvic inflammatory disease or surgery, have had previous ectopic pregnancies, suffer from sexually transmitted diseases or have had an unsuccessful tubal ligation procedure.
Symptoms
Abdominal pain or sharp cramping
Light bleeding
Nausea and/or vomiting
Dizziness, weakness and/or fainting
Treatment
Depending on the location and stage of your ectopic pregnancy your OB/GYN may prescribe medication or surgery to repair damage. In most cases, the baby does not survive, but early treatment can reduce risk of fertility issues.
Family-Centered Care
Parents are an important part of the patient care team in the NICU. While the NICU staff provides expert medical and nursing care, we encourage parents to participate in the basic care and nurturing of their infant - feeding, bathing, comforting and holding the baby. This helps ensure parents are ready to take care of the baby when it is time to go home.
Parental care and nurturing in the NICU helps to meet the developmental needs of newborns. Studies suggest it may even improve medical outcomes. We call this "Kangaroo Care" - the skin-to-skin contact and cuddling between a baby and his/her parents. We also encourage breast feeding, which offers significant health benefits for newborns. While it's often impossible for a mother to breastfeed her baby in the NICU, a private breast-pumping room is available so she can still provide breast milk.
As part of the patient care team, parents can consult with doctors during rounds and help make patient care decisions. To encourage and support this level of family involvement, we're adding a Parents' Lounge to the NICU. The lounge will provide a comfortable place for parents to relax, just steps away from their child.
Lactation Support
The Birthing Center nursing staff provides lactation support to new mothers, including lactation consultants to provide specialized support to women who choose to breastfeed. All of our lactation consultants are registered nurses with advanced training in breastfeeding management. Upon request, a lactation consultant will visit you in your room and help you with any breastfeeding issues you might have.
Your lactation consultant may:
Provide information about the benefits of breastfeeding
Observe you and your baby while breastfeeding
Provide suggestions to resolve breastfeeding problems
Show you how to use a breast pump
Instruct you in the proper handling and storage of breast milk
Assess infant weight gain
Labor & Delivery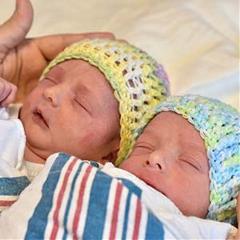 DMC Women and Infant Services specialist OB/GYN physicians provide the highest quality care for you during your entire pregnancy. From prenatal care to the labor and delivery process, our experts are here for your every need. We offer traditional hospital delivery options, as well as alternative birthing methods, such as water births.
For more information on our birthing options, click here to visit our Birthing Centers.
Most pregnancies and deliveries are totally normal, but if there are any issues, you can take comfort knowing the best neonatal physicians and pediatricians are there to care for you and your child. For more information, please visit our Maternal Fetal Medicine or Pediatric Specialty Service pages.
Nurse Midwifery
Childbirth is not an illness; it's a normal part of life. Certified Nurse Midwives at DMC Women and Infant Services treat pregnancy according to this philosophy; taking a holistic approach to helping women through their pregnancy and childbirth. DMC Women and Infant Services was the first in Michigan to grant privileges to nurse-midwives. Since then, the Nurse-Midwife program at the DMC has become the oldest, and busiest, programs in the state. As a recognized leader in midwifery, DMC Women and Infant Services helps train the next generation of nurse-midwives, helping students from Wayne State University, the University of Michigan and other programs learn Nurse-Midwifery from the specialists at the DMC. As you might imagine, training to become a certified nurse-midwife is rigorous. All certified nurse-midwives are registered nurses with an additional graduate degree in midwifery.
What is a Certified Nurse-Midwife?
According to the American College of Nurse-Midwives, certified nurse-midwives (CNMs) are licensed health care practitioners educated in the two disciplines of nursing and midwifery. They provide primary health care to women of childbearing age. This care includes prenatal care, labor and delivery care, care after birth, gynecological exams, newborn care, assistance with family planning decisions, preconception care, menopausal management and counseling in health maintenance and disease prevention. CNMs attend over 9% of the births in the United States, about 96% of these births are in hospitals.
Myths about Midwives
Many people misunderstand the work of nurse midwives. For example, most people don't understand that nurse-midwives can provide pain medication. So, if you have a nurse-midwife, you can still have an epidural or IV meds if you want them. In fact, the only thing nurse midwives can't do is perform a C-section. But even then, a DMC Women and Infant Services physician is always nearby if a C-section is needed or a complication arises during delivery. In addition to providing pain medication, nurse-midwives often help mothers through labor with natural therapies, including showers, massage, hot packs, and the use of a birthing ball.
Beyond Labor and Delivery
Nurse-midwives do more than just deliver babies. They also serve as primary care providers for women of childbearing age through senior years. DMC Women and Infant Services nurse-midwives work in the hospital and they also staff clinics throughout the Detroit area — providing services ranging from family planning, preconception counseling and prenatal care to annual physicals, pelvic exams and pap smears.
OB Ultrasound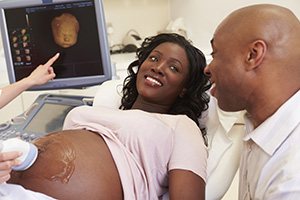 DMC Women and Infant Services is home to one of the state's most advanced obstetric ultrasound programs. That's why the program sees high-risk patients from throughout southeast Michigan and across the state. We have advanced equipment and expertise that are often not available at other locations, including access to state-of-the-art 3D and 4D ultrasound technology and many other advanced technologies that aren't yet commercially available.
As home of the nation's only National Institute of Health (NIH) Perinatal Research Branch, DMC Women Services at Hutzel Women's Hospital is a research and testing center for the latest obstetric ultrasound equipment. Physicians at the DMC have access to some of the most advanced technology and researchers who are using it in innovative ways.
Expert Team
Along with the most advanced technology, our obstetric ultrasound program has some of the most rigorous education and quality standards of any program. The ultrasound technicians (sonographers) and physicians in the program are required to participate in ongoing education and weekly training. Outside the hospital, DMC sonographers share their expertise with others as a teaching program associated with the Wayne State University School of Medicine and the Oakland Community College Ultrasound Program.
The DMC Women and Infant Services OB Ultrasound program is accredited, but goes far beyond accreditation standards, providing a standard of excellence, consistency and accuracy. This reputation for excellence and accuracy is known among physicians and patients and some women seek out the ultrasound experts at Hutzel on their own when they want a second opinion.
Interpreting Ultrasounds
When performing an ultrasound, DMC Women and Infant Services sonographers and physicians are not just looking at the baby's brain or heart, they're looking at the whole baby. Sometimes they find something that has no significance on its own, but when paired with other conditions could become problematic. For this reason, it's important to do a high-level, high-quality scan of the whole baby and really understand how to interpret the findings.
Pediatric Specialty Services
In a joint effort to provide the best care possible to our patients, DMC Women and Infant Services partners with Children's Hospital of Michigan to provide a continuum of advanced care for newborns, including pediatric cardiology, pediatric infectious diseases, and pediatric neurology. Other pediatric specialty services are also available right at DMC Hutzel Hospital, including hematology, nephrology, endocrinology, neurology, gastrointestinal, infectious diseases, genetics and dysmorphology.
Pediatric Surgery
As part of the partnership with Children's Hospital of Michigan, DMC Women and Infant Services provides advanced pediatric surgical care, including general surgery, neurosurgery, cardiovascular surgery, ENT, urological surgery, plastic surgery and robotic surgery. Our nationally recognized surgical team is dedicated to the unique needs of high-risk infants.
Specialized Tests and Advanced Procedures
Specialized Tests
With advanced technology and expertise, DMC Women and Infant Services is able to perform many specialized tests that often aren't available at other hospitals. These special tests include:
Fetal Echocardiography - This is a specialized ultrasound test that gives physicians a clear view of the unborn baby's heart. A limited view of the heart is performed during routine obstetric ultrasound tests, but fetal echocardiography enables the physician to study a baby's heart in greater detail and is extremely useful in detecting heart defects before the baby is born. Once recognized, our specialists are often able to prepare for corrective surgery in some fetuses prior to birth or after the child is born.
FIRST Trimester Screening - DMC Women's Services is one of few in Michigan able to perform this early screening for Down syndrome and trisomy 18. FIRST stands for First trimester Integrated Risk Screening for Trisomy, a test giving physicians and patients valuable information about the health of the fetus as early as 12 weeks gestation. The test is performed using a combination of ultrasound and blood tests. Research shows the test detects over 80 percent of pregnancies with Down syndrome and 90 percent of pregnancies with trisomy 18.
Advanced Procedures
Physicians at DMC Women and Infant Services use obstetric ultrasound technology to perform highly specialized procedures and fetal therapies, including:
Intrauterine Surgery and Fetal Transfusions - Hutzel Women's Hospital is one of the few hospitals in the country to perform intrauterine fetal surgery and fetal transfusions. Advanced ultrasound imaging techniques play an important role in performing and identifying patients appropriate for these therapies.
High-Risk Amniocentesis - With their expertise and accuracy in fetal imaging, the ultrasound program at Hutzel is often involved in amniocentesis procedures with patients who have a high risk of complications.
Voluntary Interruption of Pregnancy
Pregnancy is often a happy occasion, but in some cases it is necessary to terminate the pregnancy early. Whether it is a medical need or a personal choice, our experts are here to answer your questions and help you determine the best treatment for you.
Who's Who in the NICU
There are many people responsible for providing care in the NICU and SCN. The following is a list and description of some of the people who may be involved in your baby's care in the nurseries.
RNs: Nurses are critical members of the neonatal team. They are responsible for the bedside care of the infant, parent education, and coordination of the infant's procedures, care, and treatment.
Neonatal Nurse Practitioners (NNP) : These are nurses who have master's degrees in nursing and have completed advanced training and certification in the care of newborns. They are responsible for a select group of infants in the NICU and SCN and manage their care on a day- to-day basis. They are an excellent resource regarding short- and long-term treatment plans for the infant. They are also actively involved in discharge planning.
Neonatal Clinical Nurse Specialist: This is an advance practice nurse who holds a master's degree and also is certified as a neonatal nurse practitioner. The neonatal clinical nurse specialist is responsible for the educational needs of the NICU and SCN and serves as a resource for patient practice and parent education needs.
Neonatal Management Team:
Neonatal Director: The neonatal director is responsible for the administrative needs for the NICU and SCN.
Clinical Managers: Clinical managers are responsible for the day- to-day management operations of either the NICU or SCN.
Physician Team:
Attending Neonatologist: This is the physician that oversees the medical care of all the infants in the NICU and SCN. Usually, this physician attends rounds in the nurseries for a month at a time, but this may vary. They oversee the educational needs for the neonatal fellows and residents.
Neonatal Fellow: This is a pediatrician completing a 3-year fellowship in the care of sick and premature newborns. A fellow is available 24 hours a day, 7 days a week and can be reached by beeper if off the unit. The fellow is a resource to answer questions related to day-to-day care of the infants or treatment plans.
Resident: Since the DMC is a teaching institution, pediatric residents complete some of their training in the NICU and SCN.
Other Members of the NICU team:
Unit Secretary: The unit secretary plays a key role and is responsible for answering the phone, greeting families, directing traffic in and out of the nurseries and processing infant charts.
Respiratory Therapist: A respiratory therapist has special knowledge about how to use different types of respiratory equipment to treat infants. They are responsible for obtaining blood gases, making ventilator/oxygen changes and administering the inhalation treatments for infants in the NICU and SCN.
Neonatal Pharmacist: A pharmacist who specializes in medication administration and preparation for newborns, the Neonatal Pharmacist attends daily rounds in the NICU and is an excellent resource for medication questions.
Clinical Resource Manager (Discharge Coordinator): The discharge coordinator is a nurse who assists with discharge planning, arranging follow-up appointments and home health care needs for the infant after discharge. This nurse is also responsible for scheduling the eye exams and hearing tests for the babies.
Social Worker: Social workers can direct families to appropriate community resources and work closely with protective services and other state and local agencies.
Lactation Consultant: A lactation consultant is a trained professional who has special knowledge about breastfeeding and can assist the mother with any concerns about breastfeeding and milk supply, pumping or breast related problems. They assist moms in arranging for breast pump rentals.
Radiology Technician: This person takes infant X-rays or obtains the ultrasounds of infants in NICU and SCN.
Audiology Technician: This is a specially trained professional who performs hearing tests on infants. All infants receive a hearing test before discharge.
Occupational Therapist: An occupational therapist is available for infants who need support with feeding. The therapist will design an individual feeding or treatment program for infants having problems
Register for a Tour
- Register for a Tour
Take a tour of our birthing facilities.
Find a Doctor
Need a doctor for your care?
- Use our Physician Finder