Harper University Hospital is one of the most technologically advanced hospitals in the nation with fully-implement Electronic Medical Records, 100 percent medication scanning and advanced robotic surgery technology. Located in Detroit, Harper has served patients from across the country and around the world for over 150 years.
Call 911 if you have a medical emergency
About Us
Established in 1863, Harper is among America's oldest and most highly regarded teaching institutions. As part of the Wayne State School of Medicine, we're staffed by leading medical experts and educators – many of whom rank among the top in the nation. These exceptional doctors are engaged in pioneering medical research and clinical trials, often giving patients access to innovative treatments and advanced diagnostic services before they are widely available.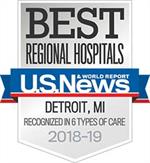 DMC Harper University Hospital has been nationally recognized by U.S. News & World Report as a 2018-19 Best Hospital in Diabetes & Endocrinology, Neurology & Neurosurgery, Geriatrics, and Nephrology. Its top five ratings included 5th overall in Michigan and 4th in metro Detroit. Harper's high performance was also noted in specialty categories including COPD, Gastroenterology & GI Surgery, Heart Failure, Orthopedics, Pulmonology, and Urology.
Our Services