Kayla's Natural Birthing Experience
Dec 7, 2022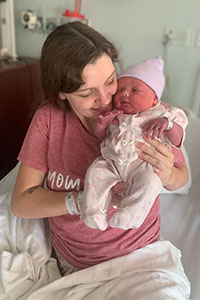 After her mother had two natural births, Kayla T. of Waterford was determined that's what she wanted when she had children too. When she delivered her first child two years ago, circumstances didn't allow it to happen, but she was thrilled to hear about the new Natural Birthing Suite offering from her OB/GYN, Dr. Danny Benjamin. "Since my first pregnancy, Dr. Benjamin knew I was interested in a natural birthing experience, so when he mentioned it, we discussed it at each one of my appointments," said Kayla.
The new Natural Birthing Suite at DMC Huron Valley-Sinai Hospital provides a home-like birth experience with the peace of mind of award-winning obstetric care. The suite includes a bathtub and shower, aroma and music therapy, dim lighting and traditional labor aides (birthing ball, peanut ball and CUB stool). Laboring moms are encouraged to ambulate/walk to ease discomfort. Our providers also provide intermittent monitoring for both mother and baby.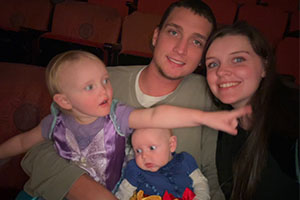 When the time for labor and delivery came in late July, Kayla was pleased with the experience. "The suite was very nice, and I received great care," said Kayla. "I would 100% recommend DMC Huron Valley-Sinai Hospital. If I had a million more kids, I wouldn't go anywhere else."
If you're interested in learning more about the Natural Birthing Suite at DMC Huron Valley-Sinai Hospital, click here.
This testimonial reflects the experience and outcome of this patient. Actual results will vary.