DMC Huron Valley-Sinai Hospital is a full-service community teaching hospital. One of eight hospitals/institutes composing the Detroit Medical Center (DMC), DMC Huron Valley-Sinai Hospital has access to the entire network of DMC physicians and clinical staff.
Founded in 1986 to serve the growing communities of Western and Northwestern Oakland County, Southern Genesee County and Eastern Livingston County, DMC Huron Valley-Sinai Hospital is here to help with all your healthcare needs.
Our Services Include:
Cancer/Medical and Radiation Oncology
Cardiac & Pulmonary Rehabilitation
Cardiology
Diagnostic Imaging
Emergency Medicine
Interventional Radiology
Neurology/Stroke
OB/GYN
Orthopedics/Sports Medicine
Pain Management
Pediatrics
Rehabilitation
Robotic & General Surgery
Spine
Building Guides
Monday: Open 24 hrs
Tuesday: Open 24 hrs
Wednesday: Open 24 hrs
Thursday: Open 24 hrs
Friday: Open 24 hrs
Saturday: Open 24 hrs
Sunday: Open 24 hrs
Call 911 if you have a medical emergency
About Us
Huron Valley-Sinai Hospital features the Emergency Room recently designated as a Level III Trauma Center, 10 Operating Room suites, the Harris Women's Center, a 22-bed unit focused on deliveries and recovering women from surgical procedures, the Charach Cancer Treatment Center with onsite radiation oncology and chemotherapy/infusion clinic and the Pain Management Clinic for therapeutic, interventional and surgical treatment options.

Other core services include comprehensive invasive and non-invasive cardiology services with all surgical procedures except transplant and open heart, 24/7 Neurosurgery coverage, comprehensive inpatient and outpatient diagnostic care and specialty dedicated units featuring one newly redesigned for orthopedics. Obstetrics care includes high-risk pregnancy management, maternal/fetal medicine, complete labor and delivery services and the Special Care Nursery powered by DMC Children's Hospital of Michigan.
The Spinal Column's 2022 Best of West Oakland Reader's Choice Award Winner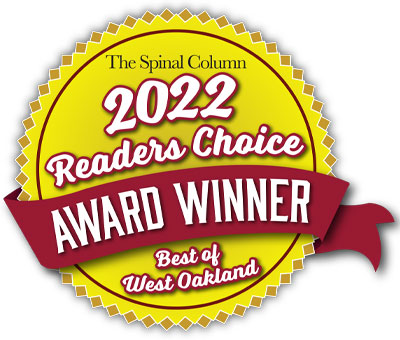 Commerce Twp./Walled Lake/Wolverine Lake/Wixom ballot:
#1 Preferred General Hospital Care for Family
#1 Preferred Baby Delivery & Birthing Hospital
#1 Preferred Joint Replacement Hospital
#2 Preferred Urgent Care Choice
Milford/Highland Twp./White Lake Twp. Ballot:
#1 Preferred General Hospital Care for Family
#1 Preferred Baby Delivery & Birthing Hospital
#2 Preferred Joint Replacement Hospital
Our Services
Upcoming Events