Rosa Parks Geriatric Center of Excellence and Senior
ER
There are only a handful of Senior ERs in the country, but according to the experts, we're one of the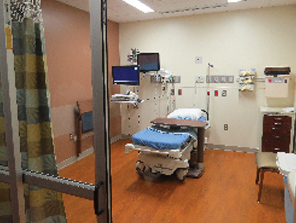 best. Working together with our Rosa Parks Geriatric Center of Excellence geriatricians, our board-certified emergency physicians can quickly and expertly care for you or your loved one.
We understand the needs of seniors are different from children or young adults, and we strive to provide you with amenities that make you more comfortable. The Senior ER at DMC Detroit Receiving Hospital features private, spacious rooms with special senior beds, non-slip floors, soothing lighting and décor and soundproofing to keep you calm and relaxed. Warmed blankets are available, bathrooms are in your room or nearby and the entire area is accessible by wheelchair.
Our nurses are specially trained to treat senior emergencies, and our patient rooms are updated to include the latest technology. We link with Detroit EMS and the Detroit Area Agency on Aging to help seniors continue their treatment at home and provide access to many helpful resources dedicated to seniors.

Our Senior ER is designed for seniors, but it relies on the expertise and dedication of our geriatricians and specialized medical team at DMC's Rosa Parks Geriatric Center of Excellence. Seniors' needs are different, which is why we offer some of the best geriatricians, or doctors who specialize in the care of older adults.

The Rosa Parks Geriatric Center was designed to make it easy for you to see your regular doctor. Our geriatricians work with your regular doctor to best manage your health. Nurses specializing in seniors can help you during your regular appointments, as well as when you have to come for special tests, such as lab work. We get to know you as more than a patient, but as a neighbor and a friend.
We offer a full medical team, able to treat the most common problems facing seniors, as well as the most extreme ones. This is possible because the Rosa Parks Geriatric Center is backed by all of the experts at the Detroit Medical Center.
Common issues treated include:
Heart (from wellness to advanced disease treatment to recovery)
Stomach and digestive conditions
Memory improvement
Balance
Losing weight without trying
Physical therapy
Lung conditions
Depression and other conditions
Nervous system wellness and treatment
Pain of any kind: hip, back, stomach, neck, headache, knee or joint
Need a doctor?
Call the Rosa Parks Geriatric Center at (888) 264-0102.