White Lake resident recognized for nursing excellence, named Exemplary Citizen
Aug 28, 2020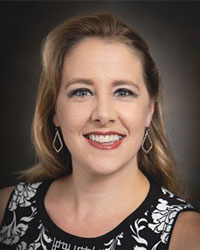 The White Lake Board of Trustees recognized resident and DMC Huron Valley-Sinai Hospital clinical nurse Dr. Madonna Ladouceur as an Exemplary Citizen at its August 18 virtual monthly meeting.
Ladouceur was recently presented the Oakland University 2020 Nightingale Award in Advanced Practice Nursing.
"We are lucky to have Huron Valley Hospital in our area and we are even luckier to have Dr. Madonna Ladouceur as a resident of White Lake," said Supervisor Rik Kowall. "She is an example of the type of people we have who are committed to the community and to White Lake. We are a community that takes to its heart the people who are in it. When we have someone who goes above and beyond the call of duty, we like to recognize that."
A mom of four, Ladouceur is a board-certified clinical nurse specialist in the Harris Birthing Center at Huron Valley-Sinai. She writes women's health policies for the Detroit Medical Center, and is a lecturer and published author.
In its 32nd year, the Oakland University Nightingale Awards for nursing excellence recognizes nurses from a variety of clinical roles who go above and beyond in caring for patients and families. This year's top nurses in Michigan come from a variety of clinical roles and settings, and were recognized as exceptional in their various nursing roles. Each of the 11 Nightingale Award winners received a check for $1,000, a solid bronze statue of Florence Nightingale, and a Nightingale ceremonial pin. Nominees were nominated by their peers, supervisors and patients in recognition for their superior nursing expertise.