Patients come together for Mako Reunion at Huron Valley-Sinai Hospital Celebration of Mobility
Oct 22, 2018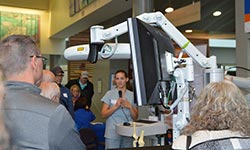 Commerce, MI-Oct. 22, 2018 -- On December 12, 2012, Orthopedic Surgeon Roland Brandt, D.O., performed DMC Huron Valley-Sinai Hospital's first robotically-assisted knee replacement for Russell Brynolf, of Howell, using the Mako system. "I was back up in a couple of months and it was like a night and day difference," Brynolf recalled. "I had the surgery in December, and in March I climbed a 960-foot waterfall in Jamaica." Four years later, Brynolf went back to HVSH to replace his other knee. Then, in 2018, he competed in his first triathlon.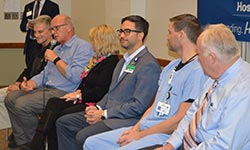 Rick Bennett, a teacher at U of D-Jesuit High School, also received two knee replacements with the Mako technology in May 2014, and again in August 2015. He had been "functioning on Motrin" and his knees bowed out about 15 degrees, Bennett said. "I had seen six ortho doctors already who said I needed a total knee replacement." One of those physicians recommended he see Dr. Brandt at Huron Valley-Sinai Hospital. "I was never given any information that there was such a thing as a partial knee replacement until I met with Dr. Brandt," he recalled.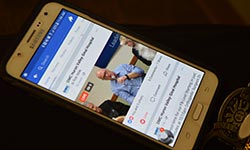 Today, he is playing ice hockey with his eight-year-old twins and is on the ice seven days a week, bikes, skis and uses the elliptical trainer. "I have no pain at all. It's absolutely fantastic."
Both Bennett and Brynolf will be attendees and participants at the Mako Reunion and Celebration of Mobility on Sat., Oct. 27, at Huron Valley-Sinai Hospital. As panelists at the event, they will answer questions from audience members who want to know what joint replacement is like from a patient perspective.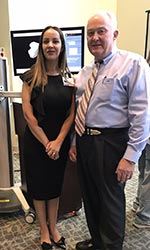 HVSH has performed nearly 2,000 hip and knee replacements using Mako robotic-arm assisted technology, making it the most successful program in Michigan, and one of the most successful in the United States.
Mako Robotic-arm assisted surgeries allow for more precision and better alignment in the operating room. Patients like Brynolf and Bennett are part of a growing segment of the population seeking solutions to knee and hip pain so they can remain active.
To celebrate over 5 years of Mako services, Huron Valley-Sinai Hospital is inviting past patients back for a Mako Reunion Breakfast 9 a.m. Saturday, Oct. 27, with presentations and a panel discussion from 10 a.m.-noon for any guests or the public seeking more information on advanced surgical procedures for joint pain.
Dr. Roland Brandt will present at 10:15 a.m., followed by a panel at 10:45 a.m. that will include physical therapy experts, orthopedic surgeons, surgical nurses, and patients who will share their stories about joint replacements. The Mako Reunion and Celebration of Mobility will be located in the North Orchard Lobby of DMC Huron Valley-Sinai Hospital, 1 William Carls Dr., Commerce, MI. For more information or to register, go to www.dmc.org/makoreunion or call (313) 578-6775.