DMC Names Neurosurgery Leader at Harper University Hospital
Sep 22, 2020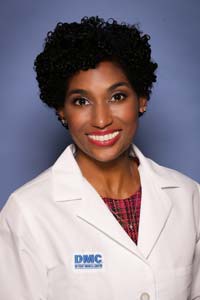 Detroit – Sonia Eden, M.D., has been appointed Chief of Neurosurgery at DMC Harper University Hospital.
Dr. Eden is a native of Detroit and is returning to her hometown after spending the last 12 years at the Ascension Borgess Brain and Spine Institute in Kalamazoo.
Dr. Eden specializes in minimally invasive spine surgery and has expertise in complex spine surgery, sacroiliac joint surgery, endoscopic and minimally invasive brain surgery, brain and spine tumor surgery and stereotactic radiosurgery.
"I'm thrilled to be returning to my hometown to lead the neurosurgery program at DMC Harper University Hospital," said Dr. Eden. "This is an opportunity to join an extraordinary team that is committed to the people of the Detroit region, ensuring they receive the most innovative neurological surgery care."
Dr. Eden earned a bachelor's degree in mechanical engineering from Yale University before going to medical school at the University of Michigan, where she received her medical degree and completed an internship in General Surgery, and a six-year residency in Neurological Surgery. Dr. Eden also completed a clinical Fellowship in Minimally Invasive Spine Surgery at Semmes-Murphey Clinic in Memphis, Tenn.
"We are honored that Dr. Eden is joining DMC Harper University Hospital. Dr. Eden is an innovative surgeon whose expertise will enhance our neurosurgery program and is someone committed to providing our patient's with safe and high quality surgical care," said Karima Bentounsi, CEO of DMC's Adult Central Campus hospitals.
Dr. Eden has a passion for serving others and has been very active in the community, including working with Big Brother Big Sisters of America, the YWCA, and Links, Inc.