Chief Executive Officer Named at the Detroit Medical Center
Jan 31, 2022

Detroit – Brittany Lavis has been appointed Group Chief Executive Officer of the Detroit Medical Center and Tenet Healthcare's Detroit market. This appointment received a formal endorsement from the Governing Board of the DMC.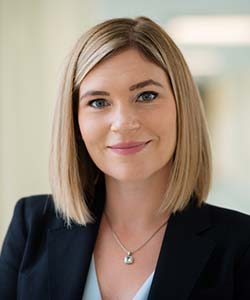 Prior to Lavis' appointment as Interim CEO of the DMC in Oct. 2021, she served as Group Chief Financial Officer for the health system. She joined the DMC in 2018, having previously worked as hospital CFO at Tenet Healthcare's Placentia-Linda Hospital and the Group CFO for all seven hospitals in Tenet's Southern California Group.
"I am enthusiastic about having the opportunity to lead the DMC," says Lavis. "We have a strong team of dedicated leaders, staff and physicians who are committed to the communities we serve. We have a solid foundation and are well-positioned to continue to fulfill our role as one of the region's premier healthcare providers. We have demonstrated a strong and enduring commitment to ensuring everyone has access to the care they need. As we go forward, we will be committed to maintaining and strengthening that commitment."
"Since joining the DMC, Brittany has demonstrated significant leadership within a large portfolio of critical healthcare services and strong character across all facets of her work," said Saum Sutaria, M.D., CEO of Tenet Healthcare. "She has shown her sincere passion for serving the people of Detroit and all of Southeast Michigan, and we have every confidence she will help carry the spirit of the DMC forward with resolve to accomplish much more."
"Since making Detroit her home in 2018, Brittany has exhibited an unwavering commitment to the DMC," said John Levy, Chair of the DMC Governing Board. "The DMC is an anchor in the community with an outstanding team of healthcare professionals. With Brittany's leadership, I look forward to the DMC's growth as the institution of choice for emergency and sophisticated specialty care."
Lavis earned a master's degree in business administration from the Wake Forest University School of Business in Winston-Salem, N.C., and a bachelor's degree from Winthrop University in Rock Hill, S.C.