Brittany Lavis Joins Michigan Health & Hospital Association Board
Jul 6, 2022

DETROIT — Brittany Lavis, group chief executive officer of the Detroit Medical Center, was appointed as a trustee at-large for a three-year term to the Michigan Health & Hospital Association (MHA) Board of Trustees.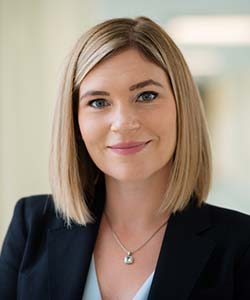 Members of the Michigan Health & Hospital Association (MHA) elected new officers and appointed board members during the association's virtual Annual Membership Meeting June 30.
Ms. Lavis was appointed as the group CEO at the DMC on January 31, 2022. Prior to assuming this role, she served as Chief Financial Officer for the DMC. She was responsible for the finance teams to ensure strong fiscal leadership across the organization. In addition to traditional finance responsibilities, she has also been responsible for the DMCs Graduate Medical Education program, DMC University Lab and the DMC Health Access Center. Her direct leadership extended beyond finance to ensure we remained a competitive academic institution, as well as improved access to care through DMC Ambulatory and Laboratory operations.
Ms. Lavis earned a master's degree in business administration from Wake Forest University School of Business in Winston-Salem, N.C. and a bachelor's degree from Winthrop University in Rock Hill, S.C. Ms. Lavis has been recognized by Becker's Hospital Review as one of 150 Hospital and Health System CFOs to know as well as 100 Academic Medical Center CFOs to know. She was also selected as a Modern Healthcare 2018 'Up & Comers' for her outstanding leadership and sustained contribution to the healthcare industry.