Green Bean Casserole
Green bean casserole is an American holiday favorite. We've got a heart-healthy version that is sure to be a hit with fans of this classic dish!
Ingredients (Makes 8 Servings):
1 lb. frozen green beans, thawed (French cut is best)
10.5 oz. canned, reduced-fat, low-sodium cream of mushroom soup
1/2 cup low-fat sour cream
1/2 tsp pepper
1 small onion (cut into thin strips)
1 can nonstick cooking spray
1/4 cup whole wheat flour
Directions:
Preheat oven to 350°F.
In a 9x13 casserole dish, combine green beans, soup, sour cream and pepper. Stir until well mixed and bake for 20 minutes.
While casserole bakes, spread out onion sticks and lightly spray with cooking spray.
Sprinkle flour over onion pieces, tossing to coat equally.
Spray a medium-large skillet with cooking spray and heat to medium-high heat. Add onions and cook until crisp, stirring occasionally.
Remove casserole form oven, add half of the onions and stir well.
Top with remaining half of onions and return to oven, bake 5 minutes more.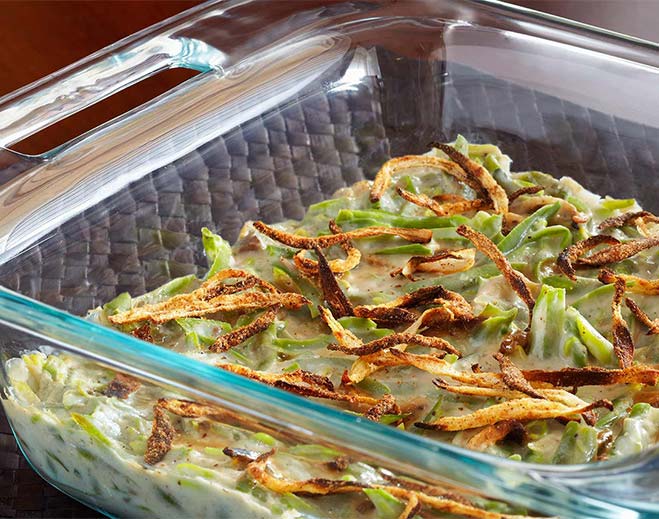 Nutritional Information for 1 Serving:
77 calories, 3 grams protein; 2 grams fat; 12 grams carbohydrates;
2 grams fiber; 4 mg cholesterol; 138 mg sodium
Recipe and photo courtesy of American Heart Association, Healthy For Good™
Sign Up for Health Tips
Get our advice and upcoming events about weight, pain, heart and more.