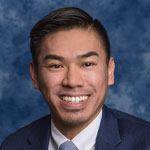 Tommy Tran
Group Chief Operating Officer, DMC
Chief Operating Officer, DMC Huron Valley-Sinai Hospital
Tommy Tran was named Group Chief Operating Officer for the DMC and the Chief Operating Officer at DMC Huron Valley-Sinai Hospital in December, 2022. He previously served as Chief of Staff and Chief Administrative Officer for the DMC. Throughout his career, he has served in various leadership roles at the DMC and Tenet, with a focus on performance improvement, operations, and quality.

This is Tommy's second stint at the DMC. He worked previously as an Administrative Project Manager and Director of Operations Improvement before leaving to join Tenet as National Director, Quality Operations. He returned to the DMC in January 2019 in the role of Executive Director of Performance Improvement and has since been promoted to Chief of Staff and Chief Administrative Officer.

Tommy earned his bachelor's degree in economics and business administration, and a master's in public health management and policy from the University of Florida.