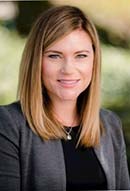 Brittany Lavis
Chief Financial Officer
Brittany Lavis is the chief financial officer for the Detroit Medical Center.
She leads our finance teams to ensure that our fiscal structures and processes are aligned with our DMC Cares vision of maximizing resources for patient care using the tenets of best practice and adherence to industry standards.
Prior to joining the DMC, she was the CFO at Placentia-Linda Hospital, part of Tenet's Southern California group. In addition to her responsibility for Placentia-Linda Hospital, she was also Group CFO for all hospitals in Tenet's Southern California Group, which includes seven hospitals with annual revenues of $1.7 billion.
She earned a master's degree in business administration from Wake Forest University School of Business in Winston-Salem, N.C., a bachelor's degree from Winthrop University in Rock Hill, S.C. In 2018, she was recognized by Becker's Hospital Review as one of 150 Hospital and Health System CFOs to Know. She was also selected as a Modern Healthcare 2018 'Up & Comers' for her outstanding leadership and sustained contribution to the healthcare industry.