Pressurized Oxygen: The Miracle "Drug" for Wounds
May 4, 2017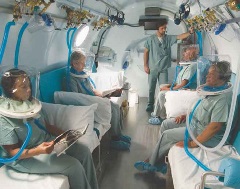 If you have a wound that won't heal, the pain may be the worst problem but not the only one. You have to keep it clean and protected. It may embarrass you or keep you from your day to day activities. Hyperbaric oxygen treatments at the Detroit Medical Center can silently and painlessly heal many such wounds. All it takes is time.
Hyperbaric treatment takes place in a chamber that's like a submarine. The medical staff pressurizes it with pure oxygen – 10 to 15 times more oxygen than in the atmosphere. Patients just sit quietly there for up to several hours as the pressure forces oxygen into their bloodstream, breaking open the dead tissue around the edges, opening up the veins to bring healing blood flowing into the wound.
The treatment does take time. Some patients spend a half day five days a week for many months in the chamber.
"People come in in pain and that's the first thing that goes away," said Dr. Alfred Baylor III, medical director of wound care and the hyperbaric center. "Meanwhile the wounds continue to heal." The treatment can help people with burns, diabetic sores, amputations, surgical incisions and the after-effects of cancer treatments.
Frostbite claimed part of Michael Crawford's right leg and part of his left foot. The 63-year-old former construction worker has been treated since September, 2016.
"When I first had it amputated it was – ugh," he said. "But the wound is closing up good. I can't say enough good things about the people there. They genuinely care about the people they serve. They explain things, they tell you what's going to happen. The doctor sees you every day and checks your wound. They work together like a finely tuned automobile. I love them like a family."
Beyond wound care, hyperbaric treatment rapidly cures carbon monoxide poisoning. Baylor described a man who left his car running at night in an attached garage and was overcome in the bedroom above it. They found him the next morning and brought him to Receiving.
"We 'dove' him and he walked out a couple days later," Baylor said.
The DMC's hyperbaric chamber can hold 18 people, making it one of the largest in Michigan. It is one of the few that accept emergency patients and it can accommodate in-patients, even those on ventilators or intubated.
For more information about the hyperbaric chamber, or to make an appointment, call 313-745-9221.