DMC Tenet Heroes 2023
Aug 24, 2023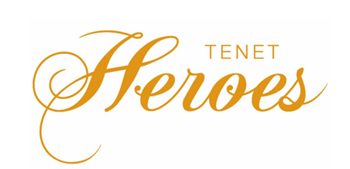 Our DMC heroes put the needs of others ahead of their own every day. Our family of nurses, doctors, health care professionals and support team members go above and beyond to provide expertise and compassionate care to our patients.
The commitment and dedication that I have seen from our caregivers and other team members at every level in our organization is inspiring. You are demonstrating courage and strength, while staying true to our mission to deliver compassionate and lifesaving care to our patients.
Tenet Heroes is an annual recognition program which celebrates individuals who make a meaningful impact within their communities and go above and beyond their daily responsibilities. The DMC is recognizing six Tenet Heroes this year.
Three of our Tenet Heroes are receiving additional recognition, and they will also be inducted into the Tenet Heroes' Hall of Fame. Only a select few are recognized with the Hall of Fame honor, Tenet's most prestigious award for employees.
Congratulations to our DMC team members who have been recognized as a Tenet Hero and those who have earned the Hall of Fame honor!
DMC Huron Valley-Sinai Hospital
---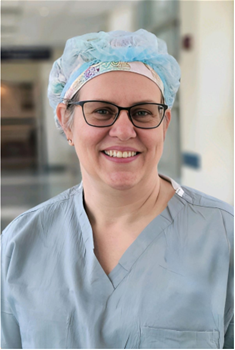 Joanne Adams, DNP, RN, CNOR
Clinical Educator, Peri-Op Services
Tenet Heroes Hall of Fame Winner
Known by her famous motto "I am here to set you up for success", Joanne Adams is an extraordinary nurse and an example to
all who work with her. The ultimate team player, she has extended her expertise to every clinical department in the facility and recently provided additional support to a department in need without hesitation.
During the toughest times of COVID, HVSH's ICU team recognized the need for patients to be turned to the prone position. Experienced in the OR, the inpatient team approached Joanne and she conceptualized a model for the OR staff to prone
patients which provided support and relief to the inpatient team during times of severe exhaustion. Joanne recruited a team
of volunteers called the "Prone Team" and created a "Prone Cart" with needed supplies. In addition to positioning patients, the Prone Team provided basic patient care, such as bathing, to free up the inpatient staff for more critical tasks.
Outside of work, she continues to demonstrate her warmth, compassion and innovation in the community. As a troop leader
with the Girl Scouts for 6 years, she takes time to learn the individual interests of each troop member to ensure she creates fun and educational experiences for her troop to enjoy. She is also a member of local nursing organizations that strive to share best practices for the enhancement of patient outcomes.
Most importantly, Joanne is a proud wife and mother of 6 children. The team at DMC Huron Valley-Sinai Hospital is beyond lucky to have her on the team as a representative of DMC's high quality and compassionate care.
DMC Harper University Hospital
---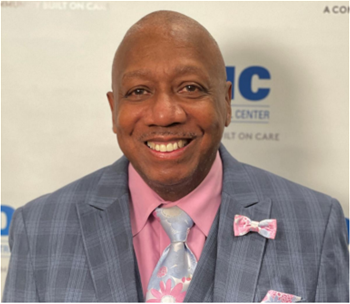 Curtis Crumbley
Plant Operations Associate 1
Tenet Heroes Hall of Fame Winner
In the absence of a manager in the department, Curtis has stepped up to help as much as possible. He has a can-do attitude and never shirks any task. He goes out of his way every day to make sure our patients and staff are satisfied with the work that was completed, and always asks if there is anything else he can help with.
What really makes Curtis a hero is the personal responsibility for the building that he shows daily. One example was on Christmas Eve at 8:30 p.m. when Harper experienced a frozen pipe and major leak that affected many floors. Curtis was onsite within 20 minutes to help and coordinate the repair and clean-up. On Christmas Day, another frozen pipe in another building caused an even larger flood, and again Curtis was onsite within minutes of being notified to coordinate the cleanup and repairs. These two instances are just a small window into how Curtis treats Harper University Hospital like his home.
Curtis demonstrates exceptional commitment to the community, always takes additional steps to go above and beyond for our patients, and constantly performs outstanding work daily. We are honored to recognize Curtis for his commitment to the organization.
DMC Rehabilitation Institute of Michigan
---
Diane Thomson, MS, OTR/L, ATP
Senior Occupational Therapist
Tenet Heroes Hall of Fame Winner
Diane Thomson was recognized as a Tenet Hero and Hall of Fame winner for truly being a disability advocate both in her role at RIM and in her community, especially for persons with spinal cord injuries (SCI). She devotes her free time to make life easier and more accessible for people with SCI and others who use a wheelchair.
When Michigan did not have a presence in the United Spinal Cord Association, Diane started a state chapter in 2018 and volunteered to serve as the President of the Southeastern Michigan Chapter of the United Spinal Cord Association, a position she still holds today. In this volunteer role and during her free time,
Diane has raised money and had services donated to provide wheelchair ramps,
handicap driver's training, adapted equipment and other services to those who could not
otherwise afford it.
In addition, for seven years she has organized a yearly event called "Rolling with Confidence," which is an educational fair for wheelchair users to connect them with services, peer support and provide skills training so they can be more independent in their everyday lives.
Diane is also dedicated to legislative reform and advocacy. She was instrumental in helping pass the Air Carrier Act which requires airlines to provide training to their personnel who handle personal wheelchairs belonging to passengers with disabilities. She also spoke at a state Senate hearing to advocate for insurance coverage for Complex Rehab Tech (CRT). CRT consists of medically necessary and individually adapted products and services designed to meet the unique medical and functional needs of individuals with disabilities to achieve high levels of function, independence and health outcomes. To ensure her patients have opportunities to live a full and productive life, she regularly spends hours writing appeals for her patients to have their CRT covered.
DMC Detroit Receiving Hospital
---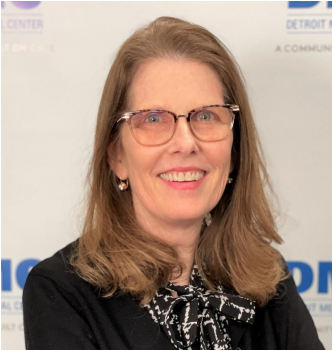 JoAnn K. Buesser
Operations Support Specialist
JoAnn Buesser is the epitome of an unsung hero. I've never encountered a more dedicated and hard working employee than JoAnn.
As an Operations Support Specialist at DMC Adult Central Campus (ACC), JoAnn has responsibility over a number of essential, highly technical duties, all of which are thankless by nature. JoAnn has a very difficult job, which includes ensuring the ACC's two large hospitals operate with the utmost integrity from every legal, audit, and compliance perspective.
If there is a contract being drafted, an audit being completed, or a compliance matter being reviewed, you can bet JoAnn has an integral role in ensuring they are done correctly and completely. Through many difficult and stressful situations, JoAnn always has a positive attitude, maintains a high level of professionalism, ensures every detail is covered, is always happy and willing to help other hospital leaders navigate through her world, and is extremely reliable in her every-day job.
JoAnn is the type of person that is so dedicated to doing a good job that she has a hard time turning it off when she leaves work. If the situation demands it, she regularly sacrifices her personal time working extra hours at home during nights and weekends to ensure the work is done, and done correctly. The patience and commitment needed to be able to operate in such an important and technical role at a high level is reason enough for her to be recognized.
JoAnn's unwavering commitment to the DMC and the Adult Central Campus over the last 10 years is to be commended. We are thankful to have her on our team and as a part of the DMC.
DMC Sinai-Grace Hospital
---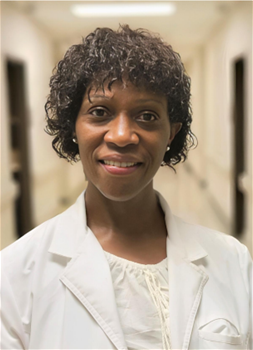 Michelle George, MSN, RN
Infection Preventionist
Michelle George is the shining embodiment of a Tenet Hero. As an Infection Prevention Nurse, Michelle has touched the lives of countless patients and families with her compassion, warmth, and unwavering commitment to excellence.
In her role, Michelle possesses a remarkable superpower: the ability to relate to nurses, physicians, and other frontline team members effortlessly, while also demanding exceptional results. She skillfully balances showing empathy and kindness with a keen focus on what needs to be done to prevent infections and improve patient outcomes.
A true leader, Michelle's dedication is unmatched, as she leads the charge in various critical areas. Her dedication to reducing femoral line usage and discontinuation is evident in the hospital's leading position in Market 8, where we have achieved the highest percentage of femoral catheters removed in less than three days. Her dedication goes beyond the call of duty, with routine weekend rounds to ensure frontline team members are adhering to evidence-based practices.
Beyond her professional accomplishments, Michelle's positive personality shines through. Even when addressing infection improvement opportunities, she remains focused and pleasant, celebrating every small win along the way. She lives by Charles R. Swindoll's quote, "Life is 10% what happens to you and 90% how you react to it."
Michelle has become a true inspiration to her team. Her delightful personality and positive spirit create an environment where everyone feels valued and supported. She can find joy in every small win and to face challenges with grace reminds us that the way we react to situations can truly make a difference. We extend our heartfelt congratulations to Michelle George for this well-deserved recognition. Thank you for your outstanding contributions, your dedication to our patients, and your unwavering commitment to making Sinai-Grace Hospital a place of exceptional care and compassion.
Children's Hospital of Michigan
---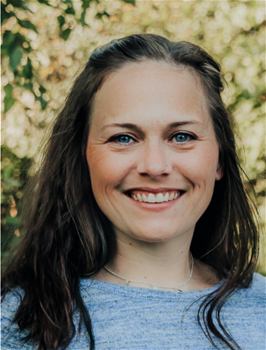 Renee Zarr, CPST
Injury Prevention Coordinator
Congratulations to Renee Zarr, Injury Prevention Coordinator at Children's Hospital of Michigan, for being named a Tenet Hero for her outstanding contributions in the safety of the children throughout Southeast Michigan.
Renee exhibits all the qualities it takes to be considered a hero to our patients and families through her work with car seat safety, bike safety, fire safety and more. Through Renee's efforts, she has helped prevent injuries for kids across the state and has even saved lives through events that review car seat installation and provide families with proper safety equipment in their home, such as smoke detectors.
Over the past several years, Renee has grown CHM's injury prevention program into a reliable resource that provides relevant injury prevention education to caregivers and community professionals. The injury prevention program raises awareness to leading causes of accidental injuries or deaths among children and provides very important resources to the community we serve.
Renee's work ethic and passion for serving the community of Detroit is the true definition of a Tenet Hero. She is well respected throughout the metro Detroit community and the State of Michigan as a leader in childhood injury prevention.
Renee's passion shines when providing resources to the economically challenged population in the city of Detroit. The injury prevention program targets high-risk areas in Detroit and Renee establishes trusting relationships with parents in the community to ensure caregivers have the appropriate resources to keep children safe. Renee provides lifesaving injury prevention education and safety tools (i.e. car seats, gun locks, smoke detectors, fire escape routes, etc.) to families in need. Renee is a champion in the community by promoting health and safety for our must vulnerable population. Her efforts are always focused on the unmet needs of the community and serving the mission to prevent childhood injury.