DMC Heart Hospital Offers First-Of-Its-Kind Naturally Dissolving Heart Stent For Coronary Artery Disease
Aug 16, 2016
Recently approved by FDA, Absorb™ bioresorbable vascular scaffold opens
The interventional cardiology team at Detroit Medical Center's (DMC) Heart Hospital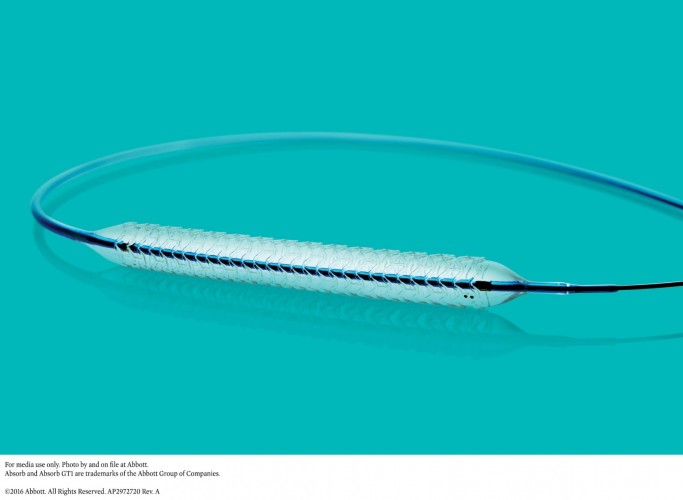 recently became one of the first in Michigan to offer patients with coronary artery disease a new treatment option that literally disappears over time.
A team composed of Dr. Theodore Schreiber, Dr. Cindy Grines, Dr. Mahir Elder, Dr. Amir Kaki and Dr. Tamam Mohamad implanted a patient on July 11, 2016 with the world's first FDA-approved dissolving heart stent. The Absorb™ bioresorbable vascular scaffold, manufactured by Abbott, is an advance in the treatment of coronary artery disease, which affects 15 million people in the United States and remains a leading cause of death worldwide despite decades of therapeutic advances.
While stents are traditionally made of metal, the Absorb™ stent is made of a naturally dissolving material, similar to dissolving sutures. Absorb™ disappears in about three years, after it has done its job of keeping a clogged artery open and promoting healing of the treated artery segment. By contrast, metal stents are permanent implants.
"The benefit of a bioresorbable stent comes from not implanting a permanent metal prosthesis," explained Dr. Kaki, medical director of the Cardiac Catheterization Laboratories at DMC Heart Hospital. "After it has dissolved, the patient's artery is restored to a natural state."
DMC Heart Hospital President Dr. Theodore Schreiber stressed the forward-thinking that led to providing this innovation at DMC. "Our goal is to provide next-level care in every aspect – technically, clinically, and personally. This new technology is an excellent example of our 'never settle for the status quo' mindset."
To ensure optimal patient selection and implant technique, DMC Heart Hospital's interventional cardiology team underwent extensive training on the new device.
More information about heart stents is available online at www.dmc.org/Stent101/.