DMC Eases Visitor Restrictions
Jun 8, 2020

The Detroit Medical Center has loosened visitor restrictions at all locations.

For hospitalized patients, we are now allowing each patient one visitor at a time.

Visitors for procedural care, emergency department, and clinic patients will wait in a designated a COVID SAFE area.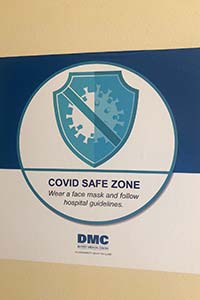 All visitors must be 18 or older. Visitors will be asked screening questions and have their temperature taken, required to wear a face mask, asked to sanitize their hands, and observe social distancing.
Visitors will not be allowed for those hospitalized patients who test positive for COVID-19 or those who have symptoms.
The DMC has put in place enhanced standards across our health system to ensure patient safety.
We have designated COVID SAFE zones throughout our hospitals, including in the emergency departments for non-COVID care. Clear signage is in place for COVID SAFE zones and COVID CARE zones. Any potential and confirmed COVID patients are immediately separated into COVID CARE zones.
Waiting areas, hospital lobbies, elevators and patient registration locations are marked to promote social distancing. Hand sanitizing stations are located in areas all across DMC facilities. All surfaces throughout our hospitals are continually cleaned and disinfected.
When you enter a DMC hospital you can rest assured that you are entering a safe and secure environment.
Watch this video to learn more about our visitor policy and safe care at the DMC.