Crain's 40 Under Forty: Brittany Lavis, 32
Sep 14, 2022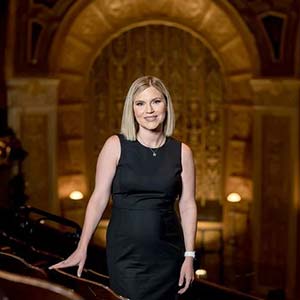 Brittany Lavis, 32
Group Chief Executive Officer | Detroit Medical Center
Career trajectory: Brittany Lavis may be the youngest CEO of a major health system in the country. But she's been involved in health care finances since she was 20 years old, starting her career as a strategic planning analyst at the same hospital she was born in Rock Hill, S.C. Within four years, she was interim CFO of the hospital — at 24 years old. And she's been quickly climbing the ladder ever since. From assistant CFO at WellStar Atlanta Medical Center to group CFO for all of Tenet Healthcare Corp.'s hospitals in Southern California to eventually Detroit, where she became group CFO DMC. After group CEO Audrey Gregory departed in October 2021, Lavis served as interim CEO and became the permanent CEO in February.
Proudest achievement: "It's less about one career defining moment and more so how I've navigated as a financial leader and now as a CEO. How do I as a financial analyst, help a clinical leader how to manger operations in their function? How do we work together on solving some of the current challenges we face today? It comes from showing I understand the business. I don't make decisions in a vacuum. I didn't start out that well in my career. I thought I had all the answers. But I needed to understand what I thought might be the right move and navigate that with the team and what they thought needed to be solved."
Current goal: Improve the health outcomes of the city it serves.
"The current health status of Detroit is clearly lagging national statistics. I'd love how we could improve health outcomes in the city of Detroit. There's a lot of work to be done to improve various components, like housing and jobs, but if we don't solve the health status, it'll be hard for those to stick and remain."
Advice: "Don't focus on chasing a title but try to get the experience and exposure. It's important to be open to lessons and hearing feedback if you're wanting a fast career trajectory."