Congresswoman Haley Stevens Visits Huron Valley-Sinai Hospital
Feb 19, 2019

DETROIT — U.S. Rep. Haley Stevens, D-Rochester Hills, toured Huron Valley-Sinai Hospital in Commerce Twp. Rep. Stevens met with leadership from the Detroit Medical Center including Group CEO Dr. Anthony Tedeschi and Huron Valley-Sinai Hospital CEO Karima Bentounsi.

"Huron Valley-Sinai Hospital is one of the great assets we have in our region," said Stevens. "It's a beautiful campus, accessible and that's how we want people to think about our hospitals. Everything Huron Valley-Sinai Hospital is doing is an effort to enrich our community."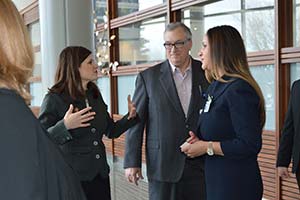 Congresswoman Stevens sits on the House Committee on Education & Labor (including the Subcommittee on Health, Employment, Labor and Pensions), and the House Committee on Science, Space & Technology. On these Committees, Congresswoman Stevens works to protect access to health care, promote manufacturing, expand educational opportunity, stand up for workers' rights, and increase investment in critical research and development. Her priorities regarding health care focus on fixing the Affordable Care Act, ending the medical device tax, allowing people aged 55-65 to buy into Medicare and lowering the costs of prescription drugs.
Congresswoman Stevens took part in a roundtable discussion with leadership from Huron Valley-Sinai Hospital and the Detroit Medical Center before taking a tour of the hospital. Discussed were efforts to fight the opioid crisis, empowering more women to pursue careers in health care and advances in cancer treatment.
"It's good to be reminded that people with influence care about the work we do," Bentounsi said. "The congresswoman's visit served as a great reminder that what we do matters in the community, and our elected officials are very supportive."
Huron Valley-Sinai Hospital is a full-service community teaching hospital with 158 licensed beds, including 6 pediatric beds in a partnership with Children's Hospital of Michigan.
Huron Valley-Sinai Hospital features the Harris Birthing Center, a regional specialty center, the Charach Cancer Treatment Center, surgical suites, cardiac services, and comprehensive inpatient and outpatient diagnostic care.
The Hospital's busy emergency department treats nearly 30,000 patients each year. Cardiology services include all surgical procedures except transplant, with four cardiac catheter labs available. Orthopedics and oncology are also core service lines, with on-site radiation oncology services and a chemotherapy/infusion clinic. Obstetrics care includes high-risk pregnancy management, maternal/fetal medicine, and complete labor and delivery services. Critical care units treat cardiac, surgical, trauma, and medical cases.