A Memo to our Patients
Mar 15, 2020
To Our Valued Patients,
We know that the current situation around COVID-19 is unnerving and with all the information in the news, it can also be overwhelming. Please know that DMC is here to help. If you have general questions about the virus, we suggest you visit DMC.org as we are updating information on a regular basis. In addition, here are some important related topics we want to make sure you keep in mind:
Stay on top of your health
Be alert for any flu-like symptoms such as fever, cough, sore throat, body aches or shortness of breath. If you experience any of these symptoms, please call your personal physician. If you don't have a physician, call the Michigan Department of Health and Human Service at 888-535-6136. Please DO NOT go to a clinic, urgent care or emergency room unless you need this level of care. If you do need urgent or emergent care, please call ahead if possible.
It is important to note that most cases of COVID-19 are mild and can be managed at home. If you are over 60, have underlying health conditions such as heart disease, lung disease or diabetes, have a weakened immune system or are pregnant, you are at higher risk. If you have any of the flu-like symptoms listed above or have been exposed to anyone who has these symptoms, please contact your healthcare provider or call our FAQ number at 888-DMC-3370.
Hospital Visitations
As of March 15, DMC is limiting hospital visitors to comply with the Michigan Governor's Executive Order 2020-06. This new policy will be in place until we receive direction from public officials that these precautions are no longer required.
The policy includes exceptions for certain patient groups. Please note that all visitors will be screened and no visitor will be allowed if they have symptoms of respiratory infection such as fever, runny nose, cough, shortness of breath. Please visit DMC.org for more information.
We are in this together
Our patients are at the center of all we do. During this time of uncertainty, we want to reassure you that we are doing everything we can to provide the best care possible, while ensuring the safety of our patients, staff and visitors.
Please take precautions. Wash your hands regularly, stay at home and away from large groups of people, and cover your cough. We care about you and our community and want to keep everyone safe.

Thank you.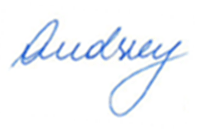 Audrey Gregory, Ph.D.
Chief Executive Officer
Detroit Medical Center