Dr. Anthony Tedeschi Recognized as One of the 50 Most Influential Clinical Executives by Modern Healthcare
Jun 18, 2019

DETROIT — The Detroit Medical Center's Chief Executive Officer, Dr. Anthony Tedeschi, has been recognized by Modern Healthcare as one of this year's 50 Most Influential Clinical Executives.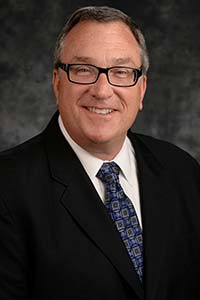 The complete ranking will be featured in the June 17 issue of Modern Healthcare magazine, and profiles of the winners are available at ModernHealthcare.com/50MostInfluential.
"I am honored to receive this recognition and to be included among this group of forward-thinking healthcare leaders," said Dr. Tedeschi. "I have had the privilege of working with outstanding and dedicated individuals over the years who consistently strived to deliver exceptional quality care with compassion and a true commitment to the patient."
Dr. Tedeschi is one of the nation's most accomplished and respected healthcare executives. He has more than 20 years of operational and clinical leadership experience in healthcare. He joined DMC as CEO in 2017, after serving as CEO of Weiss Memorial Hospital in Chicago and the Chicago Market for Tenet Healthcare. A board-certified family medicine physician, Dr. Tedeschi holds a medical degree from the University of Illinois Chicago and master's degrees in Business Administration from Northwestern University and in Public Health from the Medical College of Wisconsin in Milwaukee. Dr. Tedeschi is a Clinical Instructor at the Northwestern University Feinberg School of Medicine. He has held volunteer leadership roles for youth sports programs and schools in his community as well as with outreach healthcare organizations working in developing countries.
The recognition program acknowledges clinicians working in the healthcare industry who are deemed by their peers and an expert panel to be the most influential in terms of demonstrating leadership and impact.
"By putting former frontline clinicians in charge of leading the transformation in healthcare, organizations have leveraged their greatest assets. Throughout the country are examples of former and practicing physicians and nurses leading healthcare organizations towards greater quality of care, patient satisfaction and improved margins," said Aurora Aguilar, editor of Modern Healthcare. "Our 2019 class of the 50 Most Influential Clinical Executives is comprised of a doctor who has helped drive growth in value-based reimbursement at one of the country's largest providers, a physician who has revolutionized patient recovery in rehabilitation, a chief nursing officer who led efficiency efforts throughout the care process at a large health system, and a physician who managed to make huge waves at a federal agency while maintaining bipartisan support. Modern Healthcare congratulates the winners and thanks them for their contributions to patient care."