Radiation Therapy at DMC Huron Valley-Sinai Hospital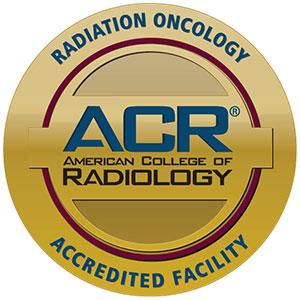 The Charach Cancer Treatment Center is accredited by the American College of Radiology (ACR), representing the highest quality and patient safety level. The ACR seal of accreditation is the gold standard in radiation oncology practice for patient care and treatment, staffing, equipment, patient safety policies and quality control.
Huron Valley-Sinai Hospital's board-certified radiation oncologists provide advanced treatment for a wide range of cancers. In addition to our experienced team, we offer some of the latest radiation therapy technology, including Intensity Modulated Radiation Therapy (IMRT), which allows radiation amounts to be adjusted during treatment to spare close-by normal tissue and permits increased doses of radiation to the tumor. We also use a Multi-Leaf Collimator (MLC) that allows metal "fingers," controlled by a computer, to filter radiation beams in a precise pattern for more targeted treatments. Huron Valley-Sinai Hospital radiation oncologists treat many cancers, including:
Bone
Brain
Breast
Colon
Gynecological
Head and Neck
Lung
Lymphoma
Your radiation oncologist and the radiation therapy team will work closely with your other Huron Valley-Sinai Hospital cancer doctors before, during and after your radiation treatments to coordinate your care and provide the safest and most effective treatments available.
Linear Accelerator (LINAC)
One of the most advanced cancer treatment platforms, the linear accelerator (LINAC), is located at the Charach Cancer Treatment Center at DMC Huron Valley-Sinai Hospital. This external-beam radiation technology pinpoints and treats cancerous and noncancerous abnormalities in the body with targeted conformal high energy X-rays resulting in less radiation to surrounding healthy tissues. The LINAC is used to treat all body sites, using techniques including Stereotactic Body Radiotherapy (SBRT) and Stereotactic Radiosurgery (SRS).
Stereotactic Body Radiation Therapy (SBRT)
DMC Huron Valley-Sinai Hospital uses Stereotactic Body Radiation Therapy (SBRT). Also called stereotactic ablative radiotherapy (SABR), external radiation therapy uses special equipment to position a patient and precisely deliver radiation to tumors in the body (except the brain). The total dose of radiation is divided into smaller amounts given over several days. This type of radiation therapy helps spare normal tissue.
Stereotactic Radiosurgery (SRS)
DMC Huron Valley-Sinai Hospital also uses another type of radiotherapy called Stereotactic Radiosurgery (SRS) to treat cancers of the brain that require a high degree of precision. It is a non-surgical, highly precise form of radiation therapy. It carries the advantages of surgery without being invasive.
Advantages of the SRS specialized therapy:
Does not require an incision
Very little risk of infection
Alternative for patients who are not candidates for surgery
Total radiation treatment is delivered in one day rather than the typical two to eight weeks
Close and comfortable care
Radiation therapy treatments are often prescribed once per day for two to 10 weeks. The close, convenient care at DMC Huron Valley-Sinai Hospital offers many advantages in addition to some of the latest technology. You'll benefit from onsite free parking, pleasant surroundings and compassionate caregivers who will make you and your family as comfortable as possible during your course of treatment.
How is radiation therapy used?
Radiation therapy, also called radiotherapy, is used to cure, stop, or slow cancer growth. When a cure is not possible, radiation may be used to shrink cancer tumors to help reduce pain or problems caused by cancer. For example, radiation therapy may shrink a tumor that prevents a patient from eating or swallowing.
How is radiation therapy given to patients?
There are two main types of radiation therapy, external beam and internal. External beam radiation comes from a machine outside the body aimed at the cancer cells.
The first is from an external beam outside the body aimed at the cancer cells. For example, this is how the linear accelerator works. It can also be used internally when radioactive material is placed inside the body near cancer cells. Internal radiation therapy is called brachytherapy. The third type of radiation therapy is systemic radiation therapy. Systemic radiation therapy uses a radioactive substance given by mouth or into a vein that travels in the blood to tissues throughout the body.
Radiation therapy can damage normal cells as well as cancer cells. Therefore, your DMC Huron Valley-Sinai Hospital radiation oncologist will carefully plan your treatment to minimize side effects. The radiation oncologist determines the dosage and scheduling of treatments, manages side effects, and all other aspects of your radiation therapy. The type of radiation therapy prescribed by a radiation oncologist depends on many factors, including:
The type of cancer.
The size of cancer.
Cancer's location in the body.
How close the cancer is to normal tissues sensitive to radiation.
How far into the body the radiation needs to travel.
For more information about radiation therapy at DMC Huron Valley-Sinai Hospital or find a Radiation Oncologist, please call (888) DMC-2500.
Other Helpful Hints:
Family or friends are welcome to accompany you during your treatment. However, visiting restrictions may vary but preferably no small children or those that are ill. Please call the main desk at 248-937-5077 to verify the most updated visitor policy.
For first-time therapy, it is recommended that someone accompany you to your appointment.
Refreshments are available but lunch is not provided.
You may eat breakfast and take usual medications before coming for your appointment unless otherwise directed.
Find a Doctor
- Use our Physician Finder
Need a doctor for your care?