The Importance of Nurse Navigation in Cancer Care
Jun 15, 2022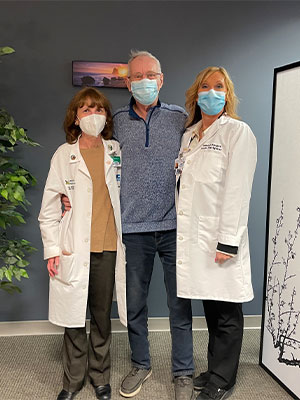 "It's amazing. She always knows I'm here and comes to see me. No appointment necessary," says patient Zvi. "It's excellent care! My treatment is so personal; I wouldn't want to be anywhere else."
As the Oncology Nurse Navigator, Tammi focuses on advocating for patients and their families from treatment to survivorship at the Charach Cancer Treatment Center at DMC Huron Valley-Sinai Hospital.
"When a person has their first consultation, it can be overwhelming. I'm there to help educate the patient, empower them with information and facilitate coordination of care," says Tammi. "I accompany patients and take notes for this initial appointment to better understand their diagnosis and treatment plan. From that point forward, I'm with them on their journey to provide personalized attention and navigate any barriers to care."
Whether it's educating patients, setting up follow-up appointments, connecting with doctors for questions or just meeting up with a patient to see how they're doing, the nurse navigator is an instrumental part of the cancer care team.
"Patients are sometimes apprehensive about talking with their doctors but Tammi's role as the nurse navigator helps bridge the gap. We know that she's following up with the patient to make sure they're not only scheduling their appointments but also keeping them," says Dr. Larry MacDonald, board-certified Pulmonologist at DMC Huron Valley-Sinai Hospital. "She goes the extra mile to get to know her patients and make their experience feel tailored made just for them."
Click here to learn more about cancer services at DMC Huron Valley-Sinai Hospital.