Benefits of Attending a Birthing Class
Dec 10, 2020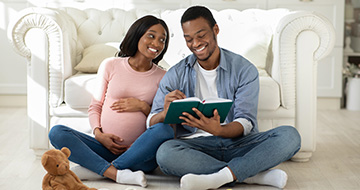 Preparing to welcome a new baby into the family comes with moments of extreme happiness as well as flashes of uncertainty. Attending a birthing class in the weeks leading up to labor and delivery offers several benefits to help new parents better understand the birthing process, explore pain management options and raise awareness of general infant care and feeding.
At the Huron Valley-Sinai Hospital Harris Women's Center, childbirth preparation classes are offered virtually or in-person. Expectant moms can choose from several course offerings including a birthing class, a bringing home baby class and/or a breastfeeding class. Each course is led by an experienced registered nurses and offers a unique perspective that helps lessen the anxiety that can come from the unknown.
New mothers who have attended one or more birthing classes often say they felt more prepared for when contractions began, for the labor and delivery process and for when it came time to care for baby at home.
Virtual classes cover the same material as the in-person class including:
Recognizing contractions
What to expect during the different stages of labor
Natural childbirth tips
Pain management options
Lactation and Breastfeeding Introduction
Problem solving
General infant care
Guidance on car seat baby placement
Knowing when to call the doctor
Where to park at Huron Valley
Where to check in
What to bring to the hospital
Those attending in-person classes also receive a tour of the Harris Women's Center's labor and delivery unit including its private labor, delivery, recovery and post-partum suites and Level II certified nursery.
Choosing a hospital to deliver a new family member is personal. To learn more about labor and delivery services at Huron Valley-Sinai Hospital, visit the Harris Women's Center online here.