Bariatric Surgery at Huron Valley-Sinai Hospital
HVSH Comprehensive Weight Loss Program
DMC Huron Valley-Sinai Hospital offers a comprehensive weight loss program, incorporating both surgical and nonsurgical modalities.

HVSH Comprehensive Program is directed by Dr. Fariba Dayhim, a board certified, fellowship-trained Bariatric Surgeon, with more than 10 years of experience in the Bariatric field. She is also a board certified Medical Bariatrician and a Diplomate of American Board of Obesity Medicine, and certified by Certification Board of Nutrition Specialists.
At HVSH, we offer a spectrum of weight loss modalities, from surgical options to a variety of diet plans for people who have not exhausted their nonsurgical options. Non-surgical options are also available to people who may not be surgical candidates or patients who need to lose significant weight prior to surgery.
By submitting this form you agree to receive periodic health-related information and updates. We welcome your comments, questions, and suggestions. We cannot give you medical advice via e - mail. To discuss any medical symptoms or conditions contact your physician or other healthcare professional. In the case of emergency, call 911 or go to the nearest emergency room immediately. Information on this page is secure. We value your privacy.
Surgical Weight Loss
From a surgical point of view, we offer both laparoscopic Roux-en-Y Gastric Bypass (RYGB) and laparoscopic Sleeve Gastrectomy (LSG), as well as revisional surgeries when needed, such as removal of gastric band, or conversion of band to bypass or sleeve when indicated.
Laparoscopic Adjustable Gastric Band (i.e. "LapBand") is no longer performed widely.
The criteria for weight loss surgery varies slightly with each patient and procedure. Yet, patients will need to meet certain standardized requirements to be considered a good candidate for a weight loss operation. The first step toward surgical weight loss is determining your body mass index (BMI). Simply enter your height, weight and gender into the BMI calculator below. If your BMI is greater than 30, you could be eligible for bariatric surgery. Here's a link to a BMI Calculator.
Laparoscopic Roux-en-Y Gastric Bypass (RYGB)
The Roux-en-Y Gastric Bypass is almost always performed laparoscopically through several small incisions rather than one large one. The procedure can take anywhere from two to four hours, depending on the amount of adhesions, presence of a hiatal hernia, and other anatomical and surgical considerations.
In this procedure, the stomach is stapled into 2 pieces, one small and one large. The small piece becomes the "new" stomach (or gastric) pouch. The pouch is about 5% of the size of the old stomach, therefore holds much less food. The larger portion of the stomach stays in place, however will lie dormant for the remainder of the patient's life. The beginning section of the small intestine (the jejunum) is divided using a surgical stapler approximately 2 feet from the end of the stomach. The section coming from the stomach is reattached to the small intestine approximately 5 feet from the recently stapled end of the small intestine. This forms the Roux limb. The Roux limb is then brought next to the pouch. The end of the Roux limb is then attached to the newly formed pouch. The Roux limb carries food to the intestines. The Y limb carries digestive juices from the stomach, duodenum, pancreas, gall bladder and liver to the intestines. The food and the digestive juices mix where the Roux limb and Y limb meet. The separation of the ingested food from the enzymes prevents its digestion and therefore absorption in the bypassed segment of intestine.
The gastric bypass procedure results in a significant, immediate lowering of your metabolic thermostat's set point. The gastric bypass is thought by many to be the most effective weight loss operation available and is considered the gold standard in comparison to other bariatric procedure.
Laparoscopic Sleeve Gastrectomy (LSG)
Unlike the gastric bypass, the Sleeve is only a restrictive procedure – it does not prevent the absorption of calories. However, it has been shown to also affect the gastrointestinal hormones. This effect seems to also play a significant role in weight loss, as well as metabolic changes after sleeve gastrectomy. This is why the sleeve gastrectomy can also work to lower your thermostat's set point; but this effect seems to be smaller compared to the gastric bypass.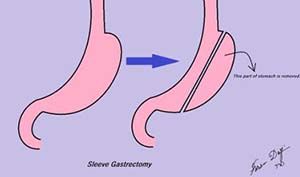 This surgery is almost always performed using a laparoscope. The stomach is decreased to approximately 3-5 ounces by one long staple line. The remainder of the stomach is removed. The small intestine remains the same, and food digests and gets absorbed like it normally would. This allows for normal absorption of vitamins and minerals, for the most part.
Sleeve is a newer procedure and has many advantages which include no foreign materials and no need for adjustment (unlike gastric band). Although it can be converted into a gastric bypass procedure, it is irreversible – the excess stomach is removed.
The Sleeve Gastrectomy is typically recommended in patients with a Body Mass Index of less than 50. This procedure is not recommended for patients with significant heartburn issues, or severe or complicated reflux disease.
Post-operative Support Group
DMC Huron Valley-Sinai Hospital hosts monthly post-operative support groups for anyone who has undergone bariatric surgery. These support groups are open to the community. We strongly encourage you to take advantage of the support groups. Studies have shown that adhering to the long term follow ups with the bariatric program and attending support groups can help with long term success after weight loss surgery.
The support group is run by our dedicated Certified Bariatric Nurse Navigator, who is here to assist you in your weight loss journey. To contact our Certified Bariatric Nurse Navigator or sign up for the support group, call (248) 937-3732.
How Do I Decide which Procedure is Best for Me?
You will gain more education about the procedures, starting with the informational seminars. Once you meet with the surgeon and your medical background is fully reviewed, you will have a full discussion about pros and cons of each procedure as it pertains to your condition.
The following table can give you a general idea about what would make one procedure preferable. However, everyone is different and there may be many more factors that can affect the type of surgery that is best for you.
Procedure

Considerations

Time Off Work

Gastric Bypass

Diabetics
Patients who suffer from heartburn
Slow Metabolism
Want the Most Effective Surgery
Do not suffer from recurrent kidney stones
Do not need aspirin, NSAIDS, or blood thinners for treatment of chronic conditions

2-3 Weeks
Occasionally 4-6 Weeks

Sleeve Gastrectomy

A known history of significant intestinal adhesions based on findings of a previous abdominal surgery, or history of multiple abdominal surgeries increasing risk of such
Patients with recurrent kidney stones
Not suffering from sever heartburn, or severe or complicated reflux disease
May need aspirin and NSAIDs
Typically works better for BMI below 50

2-3 Weeks
Occasionally 4-6 Weeks
What to do if you are interested
The process begins with an informational seminar. At the seminar, you will receive more information about the process and have a chance to ask the surgeon any questions you may have. For the list of our seminars, go to the online registration form on the right side of the page to register for an informative seminar.
If you feel you are a candidate for bariatric weight loss surgery after reading all the information about the comprehensive program at DMC Huron Valley-Sinai Hospital, ask your primary care provider for a referral to the Comprehensive Weight Loss Program under the direction of Dr. Fariba Dayhim. The Bariatric Office will then contact you and will help you prepare for the next steps in your journey.
Insurance and Payment Options
It is important that you contact your insurance company and ensure that your policy contains coverage for bariatric surgery and get a list of all of the requirements necessary for authorization. It is important that you also clearly understand what your out of pocket costs for the surgery will be so you can plan appropriately. Subject to applicable hospital policy, there may be cash pay arrangements available to patients whose insurance policy does not cover the surgery.
Non-Surgical Weight Management
Here at DMC Huron Valley-Sinai Hospital, we offer a physician-supervised weight loss program, under supervision of Dr. Fariba Dayhim, who is not only a Bariatric Surgeon, but also a Diplomate of American Board of Obesity Medicine, and certified by Certification Board of Nutrition Specialists. To learn more about our physician-supervised non-surgical program, please call (248) 242-7330.
Clinical dieticians are also available for one-on-one nutritional evaluation and counseling. If you wish to set up an appointment with a Registered Dietitian, please call (248) 937-5059.
Pre-operative Classes
DMC Huron Valley-Sinai Hospital offers pre-operative classes to help prepare you for your surgery and know what to expect. In addition to the monthly Bariatric Seminars, which are offered by Dr. Dayhim, our online classes are also available 24-7, so you can take them at your own pace.
We also offer one-on-one appointments with the Bariatric Nurse Navigator 2-4 weeks prior to your scheduled surgery to assure you are well-educated and prepared for your procedure as well as your new lifestyle, and are geared up for a healthier you and a long-term success.
Are you a Candidate?
- Take the weight loss surgery assessment
Find out if weight loss surgery is right for you.