Tina's Gastric Bypass Surgery Story
Dec 14, 2020

Shortly after high school, I realized I was always going to struggle with my weight. By the time I was in my late 30s, I was 236 lbs. For someone who's 5'1", that's a lot of extra weight to carry. My biggest problem was that I was always hungry. No matter how much I ate, I just wanted to eat more.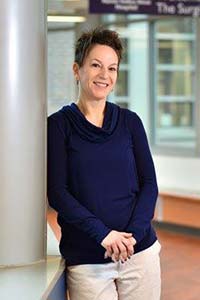 I'm an athletic trainer at the DMC and I had a patient who was built a lot like me. She came in for her appointment one day and had lost all her extra weight. She looked incredible! She told me she had bariatric surgery at the DMC. I thought to myself, "Wow! This might be my answer!" So I made an appointment for a consultation.
I had gastric bypass surgery at the DMC and within one year, I had lost 106 lbs. It's been six years since my surgery and I've worked hard to keep the weight off. One of the best things since surgery is that I'm not constantly hungry like I was before. That has been a huge change for me and a big part of my success.
One of the best days towards the end of my first year was when I called Lane Bryant (plus-size clothing store) and said, "This is Tina Applegate and I need to cancel my credit card." They were all worried there was something wrong and I told them, "Nope, I just don't need plus-size clothes anymore!" It was such a proud and happy day for me.
I had always been active, even when I was heavy. Since my surgery I've been able to do so much more! I've done some triathlons, a half Iron Man and worked myself up to a full Iron Man. Crossing that finish line was the best feeling in the world. It was so amazing that I'm training right now for my second Iron Man!
I'm so grateful to the staff at the DMC. Right after the surgery as I was doing laps around the pavilion, they'd be there cheering me on, saying "Go! Go get it, girl!" It made me feel so good. They've helped me change everything about my life. Having bariatric surgery was the single best decision I've ever made in my adult life. When I look at old pictures of my heavier self, my brain just can't process it. I think, "Who is that? I don't know who that girl is!" That's not me anymore!