Jennifer's Gastric Sleeve Procedure Story
Dec 9, 2020

Jennifer Hamilton is a young mother and entrepreneur. On January 10, 2017, Jennifer received life changing weight loss surgery. She had the gastric sleeve procedure performed by Dr. Michael Wood, bariatric surgeon at the Detroit Medical Center's Your New Self weight loss solutions program.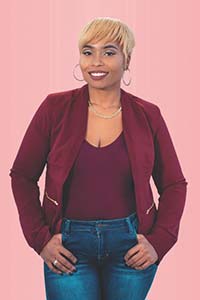 Before her procedure, Jennifer had a hard time losing weight and keeping it off. "I've been on this weight loss journey for as far as I can remember. I've been overweight my whole life," said Jennifer. Although Jennifer hasn't had any adverse health conditions attributed to her weight; she recognized that diabetes, high blood pressure, and stroke were a common trend in her family history and decided to do something to prevent the same thing from happening to her. These obstacles prompted Jennifer to seek weight loss surgery.
Since her life changing weight loss procedure, Jennifer has lost a total of 104 pounds. Jennifer's road to weight loss surgery success has not been an easy one. The biggest hurdle for Jennifer was changing her eating habits and being sure to take her vitamins. She attributes much of her success to the meal plan that was developed for her after her surgery by the DMC team. "The meal plan they give you following surgery was very informative. I follow a lot of weight loss surgery groups online and a lot of people didn't get that. Their doctors were not informing them what to eat afterwards. This was a really big help because without it I would have been lost." she said. Jennifer says the best part of the meal plan is that it included a schedule. "A lot of times you're not hungry so you won't eat and having a schedule helped make sure I got enough of the right nutrients in my day." said Jennifer.
She also attributes her success to the support and professionalism of the office staff of the Your New Self: DMC Weight Loss Solutions program. To her they are family and she affectionately refers to the ladies there as her sisters.
Since her surgery, Jennifer's life has changed tremendously. "My confidence level is higher and I don't let any opportunity pass me by."
Jennifer has not only lost weight, but has adopted a healthier lifestyle that has helped her keep the weight off. Her new lifestyle not only benefits her, but it also benefits those around her. She is able to establish healthy habits for her daughter and her mother. "I get joy out of being able to come home and cook my family healthy meals. I like the fact that I can start my child off early with healthy habits because I don't want her to go through what I went through," she adds.
To those considering weight loss surgery Jennifer has the following advice: "If you want to live longer and have a good quality of life you should try to take care of yourself. I had weight loss surgery because I wanted to be active. I wanted to be able to run around and play with my daughter and now when I take my little girl to birthday parties, I'm out there bouncing and jumping too." She adds, "A lot of people lose weight differently and people need to just focus on the fact that you're losing weight and it takes time. Don't get discouraged and give up because everyone is different and everyone will lose weight differently."