Andre's Gastric Bypass Surgery Story
Dec 29, 2020

My kidneys were failing and my doctor told me at a weight of 318 lbs, I would never get on the transplant list. His words were, "If you care about yourself in any way, you'll start losing weight."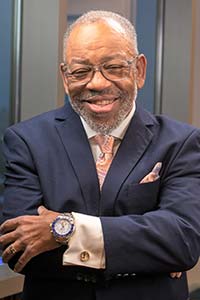 I've worked hard in my life to get where I am. I recently received my 25-year token from Alcoholics Anonymous, which means I've been clean from drugs and alcohol for 25 years. I'm married and my daughter has given us 4 grandchildren. They're my little diamonds! I also do volunteer work in the community. I'm at a good place in my life these days and I said, "I want to live!" So my doctor referred me to the DMC and their Your New Self DMC Weight Loss Solutions program.
I had gastric bypass surgery in 2016 and began losing weight immediately afterwards. The training I received from Dr. Wood's staff was so clear and concise. They taught me a new way to think about food. They put me in a position to be successful and that built my confidence. I've lost 108 lbs, am no longer diabetic and I'm living the best life I've ever lived. More than anything, Dr. Wood and his team didn't give me a fish, they taught me how to fish!
I had my kidney transplant in 2018 and afterwards I felt like they put a new battery in me! I have stamina now. I'm able to do things I couldn't do. I'm able to go places I couldn't go. It's like having two lifetimes in one.
A lot of people who are overweight have low self-esteem. What I've learned is that you have to love yourself. Self-love is the first love. I love me some Andre today...and a whole lot of other people do, too! When you love yourself, you can take the steps necessary to improve your health.