U.S. News & World Report Names DMC Harper University Hospital Among Best in Michigan
Aug 8, 2017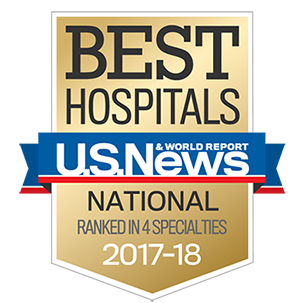 Detroit Medical Center (DMC) Harper University Hospital has been recognized nationally as a Best Hospital for 2017-18 in Diabetes & Endocrinology, Neurology & Neurosurgery, Gastroenterology & GI Surgery and Nephrology by U.S. News & World Report. Harper also ranked fourth in Michigan overall and third in southeast Michigan.
The annual Best Hospitals rankings, now in their 28th year, are part of U.S. News' patient portal, designed to help patients make informed decisions about where to receive care for life-threatening conditions or for common elective procedures.
Additionally, DMC Huron Valley-Sinai Hospital and DMC Sinai-Grace Hospital were ranked regionally, and DMC Huron Valley-Sinai Hospital, DMC Sinai-Grace Hospital and DMC Detroit Receiving Hospital were recognized as high performing in several specialties, procedures and conditions.. Also, earlier this year, DMC Children's Hospital of Michigan was ranked among the best Children's Hospitals in the nation in seven (7) pediatric specialties.
"The DMC leadership team and I are all proud of the continued dedication to excellence in patient care shown by our colleagues at Harper and all of our hospitals," said Dr. Tony Tedeschi, Chief Executive Officer, Detroit Medical Center. "These national and regional rankings are evidence that quality care and patient safety is at the heart of our mission as a leading healthcare system."
For the 2017-18 rankings, U.S. News evaluated more than 4,500 medical centers nationwide in 25 specialties, procedures and conditions. In the 16 specialty areas, 152 hospitals were ranked in at least one specialty. In rankings by state and metro area, U.S. News recognized hospitals as high performing across multiple areas of care.
"For nearly three decades, we've strived to make hospital quality more transparent to healthcare consumers nationwide," said Ben Harder, managing editor and chief of health analysis at U.S. News. "By providing the most comprehensive data available, we hope to give patients the information they need to find the best care across a range of specialties."
The U.S. News methodologies include risk-adjusted survival and readmission rates, volume, patient experience, patient safety, quality of nursing care and other care-related indicators.
Best Hospitals was produced by U.S. News with RTI International, a leading research organization based in Research Triangle Park, N.C.
For more information about the 2017-18 rankings, please visit health.usnews.com. The rankings will be published in the U.S. News "Best Hospitals 2018" guidebook (ISBN 978-1931469869), available for pre-order from the U.S. News Store for delivery in late August.
For more information, visit Best Hospitals and use #BestHospitals on Facebook and Twitter.