Dr. Audrey Gregory Named to Modern Healthcare's Top 25 Minority Leaders List
Feb 17, 2020

DETROIT — The Detroit Medical Center's Chief Executive Officer, Dr. Audrey Gregory, was recognized by Modern Healthcare as one of 2020's Top 25 Minority Leaders. The profiles of all the winners are featured in the February 17 print issue of Modern Healthcare and at ModernHealthcare.com/Top25Minorities.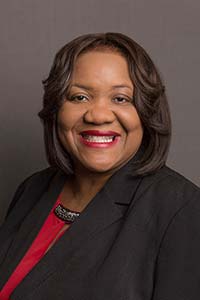 "It is a privilege to receive this honor and to be included in this group of committed and dedicated health care professionals," said Dr. Gregory. "I have been fortunate in my career to have had the opportunity to work with people who share my passion to deliver safe, quality and compassionate care to the communities we serve."
Gregory, Ph.D.. R.N., was named CEO of the DMC on Jan. 1, 2020. She came to the Detroit Medical Center in Oct. 2019 as the CEO of its adult central campus hospitals including Detroit Receiving Hospital, Harper University Hospital, DMC Heart Hospital and Hutzel Women's Hospital.
In its ninth year, the biennial recognition program honors the top minority healthcare executives who are influencing the policy and care delivery models across the country. In doing so, they are also highlighting the continued need to nurture diversity in our organizations.
"Executives honored on this year's list of the Top 25 Minority Leaders are reshaping care delivery. They're leading financial turnarounds, addressing the social determinants of health and adopting new value-based models of care," noted Aurora Aguilar, editor. "But perhaps most importantly, this class is ensuring that staff reflect their communities; by vetting minority candidates for decision-making positions and making medical education more affordable for disenfranchised communities. We thank the 2020 Top 25 Minority Leaders for their contributions to the industry and society."