DMC Sinai-Grace Hospital Names New Chief Nursing Officer
Feb 15, 2022

DETROIT — Dixie Aune, DNP-NE, WHNP-BC has joined DMC Sinai-Grace Hospital as Chief Nursing Officer. Her appointment is effective February 14, 2022.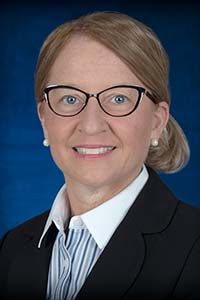 Dixie is a results driven healthcare executive with proven performance in strategic leadership, program development and change management. She comes to Sinai-Grace after a long and distinguished career in the United States Navy, where she served in a variety of key leadership roles.
Most recently she was Nurse Executive/Chief Nursing Officer at the Naval Medical Center Portsmouth in Portsmouth, Va., the Navy's premiere academic medical center. In that senior executive role she provided guidance and management for a 270 bed multi-specialty hospital, including 11 primary care clinics.
In recognition of her dedication and leadership, she has been honored with the DAISY Lifetime Achievement Award and the Military Health System Nurse of the Year Award.
Dixie earned her undergraduate degree in nursing from North Dakota State University in Fargo, N.D. She holds a Master of Science in Nursing from University of North Carolina, Chapel Hill, N.C., a Master of Science in Community Health Administration & Wellness Promotion from Independence University, Salt Lake City, Utah, and she earned her Doctor of Nursing Practice-Nurse Executive from Old Dominion University in Norfolk, Va.