DMC Rehabilitation Institute of Michigan Welcomes New Chief Nursing Officer
Aug 29, 2022

DETROIT — Lela Hickonbottom, DNP, MBA, RN, CRRN, has joined the DMC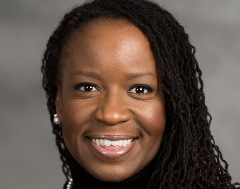 Rehabilitation Institute of Michigan as Chief Nursing Officer. Her appointment is effective August 29, 2022.

Hickonbottom has a passion for new challenges and brings extensive experience in management and leadership to the role.

She comes to RIM after 20 years as the CNO at Special Tree Rehabilitation System in Romulus. In that position she played a key role in implementing the organization's Electronic Health Records system, quality improvement initiatives, expansion of the student nursing clinical program and instituting nursing performance measures to enhance patient outcomes.

Hickonbottom earned her undergraduate degree in nursing and her Doctorate of Nursing Practice from the University of Michigan, as well as a Masters in Science of Nursing and MBA from University of Phoenix.

She is also on the faculty for Washtenaw Community College and Henry Ford Community College, providing clinical oversight in the training and development of nursing students.