DMC Hutzel Women's Hospital - Taking Care of Your Special Deliveries for over 150 years
May 9, 2017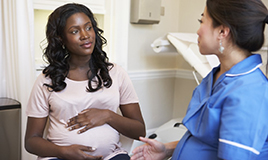 Having a baby is one of life's most precious moments. Having a health care partner that can customize maternity care for you and your special pregnancy needs is key. You want a place that is comfortable, friendly, and will cater to you, your unborn child, and your family.
Hutzel Women's Hospital has been in the baby business for over 150 years, providing customized labor and delivery care to every patient. Just ask Charlene Pettway, a reporting analyst and Hutzel mom.
At just 26 weeks gestation, Charlene's water broke. She was rushed to Hutzel where she spent 11 days on bed rest. When she delivered her baby boy, Braylen, he weighed just 2lbs 2 ozs. Braylen spent 10 weeks and 4 days in the Neonatal Intensive Care Unit (NICU) and Special Care Nursery (SCN) at Hutzel where he was cared for by "the most amazing doctors and dedicated nurses," as Charlene says. During Braylen's stay, he experienced some minor medical setbacks. "His relentless spirit coupled with the medical team of Hutzel persevered and my baby come home with no health issues at all! Today, Braylen is thriving, walking, talking, reciting all his colors on demand, learning to count and can jump higher than any two-year old I've ever seen! Hutzel is a special place."
The birthing centers at the Hutzel offer comprehensive maternity care:
Amenities
Spacious birthing suites
Father accommodations
Birthing classes
Certified lactation consultants
Neonatal Intensive Care Unit
Specialized ICU for pregnant mothers
Midwifery program
Patient centered birthing plan
Hutzel works in partnership with the Children's Hospital of Michigan, home to the nation's top 50 pediatric programs for expert infant and child care beyond your Hutzel delivery (as ranked by US News & World Report).
Remember Hutzel for you special deliveries. To learn more about Hutzel's labor and delivery services, or to come in and take a tour, call 1-888-DMC-2500.