DMC Expands DLIVE Program To Serve More Trauma Patients
May 8, 2019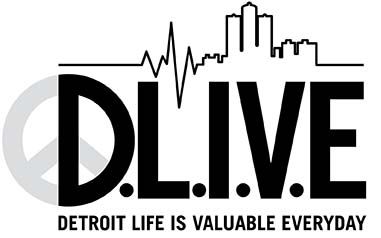 The Detroit Medical Center today announced its Detroit Life is Valuable Everyday (DLIVE) violence intervention program has been expanded to now serve trauma patients at Detroit Receiving Hospital. The program, developed at DMC's Sinai-Grace Hospital, is aimed at providing crucial crisis intervention to reduce a trauma patient's risk for repeat injury and death.
Medical literature shows that once someone is injured as a result of interpersonal violence, they are at increased risk of being involved in a similar-type incident. However, hospital-based violence intervention programs have emerged as effective strategies to prevent violence re-injury and retaliation. DLIVE was borne out of the recognition that violence is a pervasive, cyclical disease process that continues to be a major public health crisis in the city of Detroit, where homicide is the number one cause of death for residents ages 15-34.
For young people brought to the trauma center after sustaining acute, traumatic injury from interpersonal community violence, DLIVE provides health-centered, community-focused solutions. DLIVE's highly-trained Violence Intervention Specialists are uniquely qualified transformative agents who immediately engage with trauma victims to provide crisis intervention and mentorship with a goal of forging new pathways and strategies that can lead to that young person's health and wellness. This comprehensive, holistic approach is supported by professionals from multiple disciplines and leverages resources and proven strategies to shape a healing journey with that individual. DLIVE's main goals are to:
Eradicate the future morbidity and mortality predicted by the initial injury
Prevent retaliatory violence
Prevent entry into the cycle of incarceration that may impact survivors of Community Violence
Build a culture of total health around Community Violence
"The biggest predictor of a violent injury is the fact that you've had one before," said Dr. Tolulope Sonuyi, Medical Director of DLIVE. "This is a public health crisis that continues to impact our city's young people in a devastating way - it's a no brainer for us to bring this program to Detroit Receiving Hospital."
Launched in April 2016 at Sinai-Grace Hospital after rigorous study of evidence-based literature, DLIVE has made a significant impact on the young people it serves. Examples of this impact range from guiding the housing relocation of a family to guiding several young people through substance abuse to facilitating numerous employment opportunities. DLIVE has enrolled over 100 members since its launch and has seen a less than 1 percent re-injury rate – significantly better than the typical 30-45 percent.
DLIVE continues to grow to meet the burden of trauma seen at Sinai-Grace Hospital and now Detroit Receiving Hospital. Executive Director Ray Winans notes the need for DLIVE's service currently outweighs their capacity, and so the intervention team continues to grow and leverage resources to meet the city's need.
"DLIVE has had tremendous impact in the community around Sinai-Grace Hospital, and we're proud to expand the program to Detroit Receiving Hospital and the surrounding area," said Dr. Anthony Tedeschi, chief executive officer of the Detroit Medical Center. "Violence prevention is one of our biggest concerns in the city of Detroit, and DMC will continue its endeavors to make sure our young men and women have a means to cope with the consequences of this public health crisis."