Detroit Medical Center Announces New CEO
Jan 16, 2017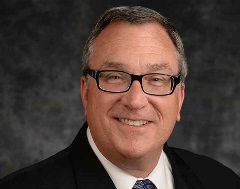 Detroit Medical Center (DMC) today announced that Anthony (Tony) J. Tedeschi, M.D., has been named chief executive officer of DMC, effective immediately. He succeeds Joe Mullany, who has left the organization to pursue other opportunities.
"We are thankful to Joe for his significant contributions to DMC and the metro Detroit community, and wish him all the best in his future endeavors," said Eric Evans, president of Hospital Operations for Tenet Healthcare.
A well-respected physician leader, Dr. Tedeschi most recently served as CEO of Tenet's four-hospital Chicago Market and as the top executive at Weiss Memorial Hospital, a 236-bed urban hospital with 42 specialties and more than 800 employees. Before joining Tenet, he was chief operating officer of Cook County Health & Hospitals System in Chicago, one of the nation's largest public health systems.
Throughout his career, Dr. Tedeschi has established and expanded critical service lines, cultivated community relationships, built high-performing teams and improved engagement and collaboration among physician leaders.
"Tony's more than 20 years of operational and clinical experience uniquely positions him to lead DMC in its next chapter; building upon its successes while deepening its integration with the city and medical community at large," said Evans. "I am confident that Tony's leadership will greatly complement the incredible work being achieved here, while elevating the delivery of safe, high-quality care and exceptional service provided to our patients."
Dr. Tedeschi earned a medical degree from the University of Illinois Chicago, a master's degree in business administration from Northwestern University and a master's degree in public health from the Medical College of Wisconsin in Milwaukee. He received his bachelor's degree at Knox College in Galesburg, Ill.
"I look forward to being a part of DMC, a world-class health system dedicated to innovating clinical care, training the next generation of healthcare professionals and helping patients recover faster and stay healthier longer," said Dr. Tedeschi. "DMC is woven into the fabric of this community and plays an important role in the overall wellbeing of the city. Together, we will advance the delivery of safe, high-quality care and pave the way for its next 100 years."
About the Detroit Medical Center, www.dmc.org
The Detroit Medical Center operates eight hospitals and institutes, including Children's Hospital of Michigan, Detroit Receiving Hospital, Harper University Hospital, Huron Valley-Sinai Hospital, Hutzel Women's Hospital, Rehabilitation Institute of Michigan, Sinai-Grace Hospital, and DMC Heart Hospital. The Detroit Medical Center is a leading regional health care system with a mission of excellence in clinical care, research and medical education. The Detroit Medical Center is proud to be the Official Healthcare Services Provider of the Detroit Tigers, Detroit Red Wings and Detroit Pistons.
For more information, visit www.dmc.org. "Like" us on Facebook at www.facebook.com/dmcheals, follow us on Twitter at @dmc_heals or check out our YouTube page at www.youtube.com/DetroitMedicalCenter.