You're not getting older. You're getting better, with the DMC
May 12, 2017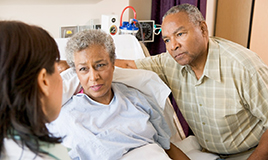 When you reach your 60s, some perks start coming your way. You get discounts in stores and restaurants and at the movies. You can claim the Medicare and social security benefits you've paid into for your entire working life.
The Detroit Medical Center (DMC), too, offers a range of services for people as they grow older, including the Rosa Parks Geriatric Center, the senior emergency room at Detroit Receiving Hospital and the summer River Walkers program on the waterfront in downtown Detroit.
Rosa Parks Geriatric Center
Most patients come to the Detroit Medical Center on a referral from their primary care doctor, for treatment of a specific illness, condition or injury. But at the DMC's Rosa Parks Geriatric Center, people aged 55 and up can get primary care from a team that specializes in aging.
"We call this a patient-centered medical home," said Dr. Joel Steinberg, program director for the DMC/Wayne State University Geriatric Medicine Fellowship. "Your primary care doctor is part of a team that includes nurse practitioners, medical support staff, knowledgeable receptionists, specially-trained nurses and a full-time social worker." He said the entire staff meets daily to track progress with existing patients.
At the Rosa Parks Center, patients share in the decision making. The staff teaches patients with chronic diseases to manage their own care and follows up to make sure they're doing okay. Pharmacists check with patients after they're discharged to make sure they're taking the right medications.
"Because we're part of a university, medical students usually accompany doctors here," Steinberg said. "Residents and geriatric medicine students are involved in the care and that means more people thinking about the patients."
For more information on the Rosa Parks Center or to make an appointment, call 313-745-1741.
Senior ER
If you've ever been in a large hospital's emergency room you know how stressful it can be. For older adults who are already hurt or sick, it can be overwhelming. That's why Detroit Receiving Hospital established the senior ER. It has two sections, each with five beds and each bed is in its own private, sound-shielded room.
The senior ER is more than just rooms. The staff are chosen and trained to listen and respond to the unique needs of their patients.
"The ER doctors look for other accurate or chronic problems which could be addressed on an outpatient basis, possibly preventing further emergency room visits," Steinberg said.
River Walkers
The Detroit Medical Center is as dedicated to keeping people healthy as it is to treating them when they're not. Nine years ago, it launched the River Walkers program for people age 55+. On Tuesdays and Thursdays from June through August, as many as 2,000 participants gather at Rivard Plaza to begin their walk. They can get basic health screenings, hear from experts and try additional exercises over the course of the summer. Visit http://www.dmc.org for more information.
The Rosa Parks Center offers:
Routine wellness check-ups

Cardiology services

Stomach and digestive evaluations

Memory improvement

Physical therapy

Lung testing and treatments

Depression counseling

Nervous system treatments

Pain of any kind: hip, back, stomach,
neck, headache, knee and joint

Weight management