Veteran Detroit Medical Center CEO Dr. Reginald Eadie Named New Regional Chief Operating Officer
Jul 10, 2016

The Detroit Medical Center (DMC) announced today that it has selected Reginald J.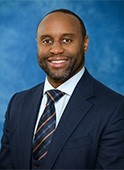 Eadie, M.D., MBA as the new DMC Regional Chief Operating Officer, effective August 1. As a native Detroiter, physician and national thought leader, Dr. Eadie's zeal for the health and well-being of Detroit residents will bring an unique perspective to the development of an exceptional strategic and operational growth plan for DMC as it continues to expand its footprint.
"The DMC executive team and I met with a number of highly-qualified candidates," said DMC CEO Joe Mullany. "Dr. Eadie's standout accomplishments could not be ignored. His successes as a leader have been exceptional, and his impact on transforming health care has been just as impressive. We welcome his leadership into this vital role and look forward to his innovative strategies for planned growth, operational efficiencies and continued support of our communities."
During his time at the DMC, Dr. Eadie founded the DMC 61 Day Health Challenge, increased DMC's quality indicators for better patient care and lead a primary care strategy for the region. As a leader, he challenges his team members to think outside the box, to look for new and improved ways to deliver health care and to become passionate about quality, excellence and patient- and family-centered care.
"I am extremely energized to serve the DMC in this new capacity," said Dr. Eadie. "It has been my sincere pleasure, for more than eight years, to work with a talented team of health care workers, and I look forward to many more years of implementing the next phase of innovation tied to operational excellence for the greater benefit of those we serve."
Dr. Eadie is an emergency medicine physician and has been serving as Chief Executive Officer (CEO) of DMC Harper University Hospital, DMC Hutzel Women's Hospital and DMC Detroit Receiving Hospital. He joined the DMC in April 2008 as Vice President of Medical Affairs at DMC Harper University Hospital and DMC Hutzel Women's Hospital. In July 2010, Eadie was appointed as CEO of Detroit Receiving Hospital, and was named CEO of DMC Sinai-Grace Hospital in January 2012.
Dr. Eadie is a graduate of Wayne State University (WSU) School of Medicine and completed his Emergency Medicine Residency at WSU/Detroit Receiving Hospital in 1998. He is a diplomat of the American board of Emergency Medicine, a member of the American College of Health Care Executives, and a graduate of DMC Leadership Academy and Leadership Detroit.
Dr. Eadie will continue to provide executive oversight to the leadership teams of Harper, Hutzel and Detroit Receiving Hospitals while the search process to identify a replacement for that role is underway.