The Children's Hospital of Michigan Appoints Chief of Physical Medicine and Rehabilitation
May 15, 2017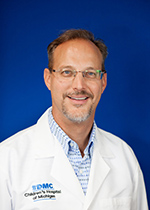 The Children's Hospital of Michigan-DMC has announced that Charles Pelshaw, M.D., has been appointed Chief of the Division of Physical Medicine and Rehabilitation Services. Dr. Pelshaw, who most recently served as interim chief, also serves as Director of the Myelomeningocele Care Center and Medical Director of the Inpatient Rehabilitation Unit.
Dr. Pelshaw has a long history in Detroit, graduating from medical school at the Wayne State University School of Medicine and serving his residency at the Children's Hospital of Michigan. He is board certified in Pediatrics and Physical Medicine and Rehabilitation with a sub certification in Pediatric Rehabilitation.
In his new role, Dr. Pelshaw will oversee the division, which specializes in the rehabilitation and medical management of children with cerebral palsy, brain injuries, myelomeningocele, spinal cord injuries, neuromuscular disorders and musculoskeletal conditions. The department provides evaluations and continuity of care to patients in the outpatient clinic setting including the Myelomeningocele/Spinal Cord Injury Clinic, Muscular Dystrophy Clinic, inpatient consultations, and on the inpatient rehabilitation unit.