Patty Jobbitt Named Chief Executive Officer of Rehabilitation Institute of Michigan
Feb 11, 2019

DETROIT — The Detroit Medical Center announced today Patty Jobbitt has accepted the role of Chief Executive Officer of the Rehabilitation Institute of Michigan (RIM). Jobbitt has been serving as Interim CEO since William Restum retired on Aug. 31, 2018.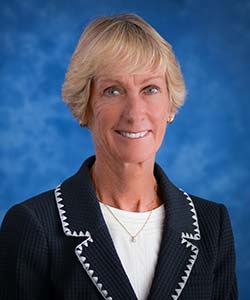 "I am honored and excited to lead the family of physicians, nurses, therapists and staff at the Rehabilitation Institute of Michigan," Jobbitt said. "It is a privilege to be part of an organization the delivers high quality care to the patients we serve. Every day I am inspired by the remarkable work we do at RIM and the work our patients put in leading to recovery. I will do my best to serve them by helping enable our leaders and staff to fulfill their passion to make a difference."
Jobbitt joined RIM in 1983 as a staff physical therapist and transitioned into leadership roles including supervisor, administrative director, chief operating officer and now CEO. As CEO, she is responsible for the vision and operation of the 69-bed licensed freestanding inpatient hospital and a network of more than 30 outpatient therapy clinics across three counties including Detroit – clinics she was instrumental in developing. Jobbitt engineered and standardized the rehab service line across seven hospitals in the DMC including adult and pediatric rehabilitation for acute care, inpatient and outpatient services. She is passionate about the patient experience as well as employee engagement and led the creation of the "RIM Way" and the cultural transformation journey for RIM.
"We are fortunate to have someone of Patty Jobbitt's caliber and experience step up to lead RIM," said Dr. Anthony Tedeschi, CEO of Detroit Medical Center. "Patty (Jobbitt) is a visionary with a proven track record of execution. She is a strong communicator who is customer focused with deep leadership capabilities, and I thank her for taking on this important role at a very special place."
In addition to her role with RIM, Jobbitt serves as Vice President for the DMC Orthopedic and Sports Medicine Service Line across the system. She is the executive for the DMC Sports Medicine Institute overseeing all of the clinical operations including sports performance analysis, sports performance training in partnership with EXOS, sports and orthopedic therapy. She was the executive responsible for the Bundled Payment Care Initiative Model 2 Program for the DMC and remains actively involved with the post-acute continuum and the continuing care network for the DMC.
Jobbitt has a bachelor's degree in physical therapy from the University of Michigan and her master's degree in health science administration from Central Michigan University.