Monique Butler Appointed COO of the Children's Hospital of Michigan
Jun 20, 2017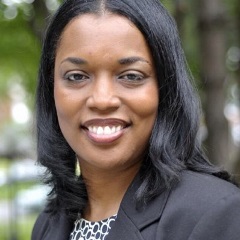 The Children's Hospital of Michigan, part of the Detroit Medical Center (DMC), is pleased to announce Monique Butler, MD, MBA, as the new chief operating officer. Dr. Butler is a board-certified internist and most recently served as the chief medical officer and vice president of medical affairs for both Sinai-Grace and Detroit Receiving Hospitals. Dr. Butler earned her MBA from the University of Tennessee and her Doctor of Medicine degree from Wayne State University School of Medicine and completed her residency at the DMC. She earned her Bachelor's Degree in Movement Science and Kinesiology from the University of Michigan.
Among her many achievements, Dr. Butler is Lean Six Sigma certified in Health Care and was instrumental in leading patient quality and safety initiatives in her previous roles. She has great experience and strength in understanding the demands of leading in a complex academic medical center and in her collaborative approach to working with physicians and the entire health care team on program development and in improving operational efficiency, physician satisfaction and communication.
Her volunteer work includes serving on the Advisory Board for the American Heart Association, Metro Detroit Chapter, as an officer for the Benjamin Carson High School of Sciences and Medicine Advisory Board, on the Neighborhood Services Organization Board of Governors, the University of Michigan's School of Kinesiology Board of Governors and the Detroit Medical Society Board of Governors. Dr. Butler is also the co-founder of the Young Doctors of Detroit program and has a passion for mentoring and providing resources to assist young future doctors in achieving their goals to serve the health care needs of the community.
In addition to her full professional life, Dr. Butler enjoys reading, movies and traveling with her family – spouse Steve Butler and daughter, Brooke. Dr. Butler is excited to begin this next chapter with the DMC supporting the Children's Hospital of Michigan in achieving their mission of helping children and families live happier, healthier lives.