Leading Heart Care Specialists Join DMC Heart & Vascular Team
Dec 13, 2019

The Detroit Medical Center continues to strengthen its heart and vascular care team with the addition of two renowned experts.

Kaushik Mandal, M.D., and Yusuke Terasaki, M.D., both cardiothoracic surgeons, have joined the DMC Heart Hospital.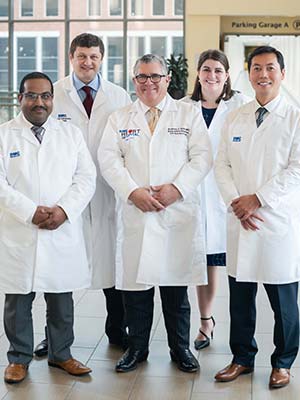 Dr. Mandal comes to the DMC from Penn State Health Milton S. Hershey Medical Center in Hershey, Pa. He has been in practice for more than 10 years, specializing in minimally Invasive and robotic cardiac surgery. Prior to his tenure at Penn State, Dr. Mandal served as associate professor and director of Robotic Cardiac Surgery at Johns Hopkins University School of Medicine in Baltimore. He received his medical degree from All India Institute of Medical Sciences in New Delhi, and completed a fellowship in cardiothoracic surgery at the Royal College of Surgeons of Edinburgh in Edinburgh, Scotland.
Dr. Terasaki joins the DMC from Johns Hopkins Hospital in Baltimore, where he completed his cardiothoracic surgery fellowship. He earned his medical degree from Weill Medical College of Cornell University in New York. He completed his general surgery residency at the New York Presbyterian Hospital and Memorial Sloan-Kettering Cancer Center. Following his residency, he spent a year in Sierra Leone in Africa and the Navajo Nation in Arizona as a trauma/general surgeon. Dr. Terasaki specialties include coronary artery bypass surgery, valve repair and replacement, and aortic aneurysm surgery.
Earlier this year the DMC bolstered the heart care team by naming Yevgeniy Rits, M.D., as chair of vascular surgery, and adding vascular surgeon, Melanie Schwiesow, M.D,
Dr. Rits received his medical degree from Wayne State University School of Medicine, and completed a Fellowship in vascular surgery at the Mayo Clinic, Rochester, Minn. He specializes in minimally invasive treatments for vascular diseases.
Dr. Schwiesow is a graduate of Saint Louis University School Medicine. She completed her vascular surgery training at Louisiana State University School of Medicine in New Orleans. Her specialties include treating peripheral vascular disease, aneurysms and carotid artery stenosis.
"Our goal is to commit to building a premier heart and vascular care program in the region," says Kenton J. Zehr, M.D., executive director of DMC's Heart Hospital. "Bringing in experts to the DMC who are committed to providing the safest and highest quality care will help us achieve that goal."