DMC Names New CEO for Adult Central Campus Hospitals
Aug 5, 2020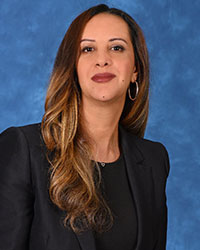 The Detroit Medical Center announced today that Karima Bentounsi has been appointed as chief executive officer of its Adult Central Campus hospitals, which includes DMC Detroit Receiving Hospital, DMC Harper University Hospital, DMC Heart Hospital and DMC Hutzel Women's Hospital.
Bentounsi's new role is effective August 10, 2020. She has served as interim CEO of the Adult Central Campus since June 2020. Karima has also served as the DMC Group Chief Operating Officer and COO of the Adult Central Campus.
"Throughout her career, Karima has successfully served in various executive roles within highly complex and matrix healthcare institutions," said, Audrey Gregory, Ph.D., R.N. CEO of the DMC. "Karima is a valuable member of the DMC team and we are fortunate to have a leader who is so committed and dedicated to our community."
Bentounsi holds an MBA from the Keller Graduate School of Management and is currently pursuing her doctorate in health care administration. She is also a member of the American College of Healthcare Executives.
Bentounsi is an experienced senior level executive who specializes in navigating hospitals through challenging environments and bringing together physicians and key stakeholders to create a shared vision to move towards a common goal. She has been recognized as a leader in her field and has received national recognition. She was recognized as a Woman of Influence by the Chicago Business Journal in 2017, won a 2018 CEO World Award in the female CEO of the Year Gold winner's category and has been featured in Becker's Hospital Review as Women Hospital and Health System Leaders to Know in 2019.
"To me, working in health care is more than just a job; it's a vocation and a privilege," Bentounsi said. "I look forward to serving alongside the outstanding team of Adult Central Campus hospitals in delivering high quality and safe care to our community."
Bentounsi joined the Detroit Medical Center in August of 2017, serving as the president and CEO of DMC Huron Valley-Sinai Hospital. Under her leadership, the hospital attained higher levels of performance and quality leading to continuous achievement of a Leapfrog Grade A rating, a distinction held by only 41 hospitals nation-wide.
Bentounsi moved to Michigan from Chicago where she served as CEO of Weiss Memorial Hospital. Prior to that role she served as the Senior Director of Operations at Cook County Health & Hospital System in Chicago, the third largest public health system in the United States.
The DMC will begin a national search to fill the role of DMC Group COO and COO of the Adult Central Campus.