61 Day Challenge Kicks Off Fifth Year of Creating a Healthier Detroit
Oct 31, 2016

The Detroit Medical Center (DMC) kicked off its 5thAnnual 61 Day Health Challenge during a rally held Friday, October 28 in DMC Harper-Hutzel Hospital's Kresge Auditorium with hundreds of participants in attendance.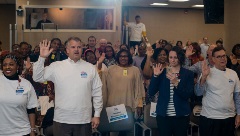 The 61 Day Health Challenge is a community initiative focusing on healthy lifestyle management including nutrition, health education, healthy food choices, fitness and dedication. Following the tradition of the past four years, during the months of November and December, participants are being challenged to replace high-calorie, high-carbohydrate side dishes with healthy substitutes. This year, participants are asked to consume more vegetables along with the previous challenges of consuming no soda, no fried foods and less sugar, together with taking more steps and eating more fruit.
The DMC 61 Day Challenge is not a weight-loss program. Organizers are committed to providing education that assists in understanding how eating healthier can help individuals feel better, be more productive and/or gain control over chronic conditions such as heart disease and diabetes.
Today's 61 Day Challenge is an expansion of the successful 2012 Say No to Soda Pop campaign founded by Reginald Eadie, M.D., COO of DMC. "Being healthy simply means choosing the right options for your body's well being," says Dr. Eadie. "The 61 Day Challenge provides individuals with the education and motivation that makes that choice easier."
The 61 Day Challenge officially begins on . In the past four years, the outpouring of community participation in the DMC 61 Day Challenge has been amazing and outcomes for some participants even more remarkable. Last year, thousands of DMC employees, corporate partner
employees and community members from across metropolitan Detroit and southeast Michigan took the pledge to live healthy during the 61-days. This year's participation is shaping up to include even more
Detroit and southeast Michigan residents, as well as regional 61 Day Challenge business partners and their employees. In addition to the hundreds who participated in Friday's kick-off event, many more will make their pledge online leading up to and after the kick off. It's not too late to take the pledge and take that first step towards a healthier way of eating.
For more information and to take the 61 Day Challenge pledge, visit www.dmc.org/61days. A resource toolbox is also available online with tips for meeting the challenge requirements and staying motivated.