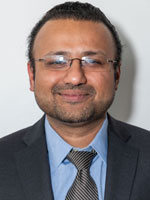 Pranav Patel M.B.B.S, M.D.
Department of Anesthesiology/Detroit Medical Center
Chief, Outpatient Surgery Center
Vice Chief, Harper Hospital, Hutzel Women's Hospital
Assistant Professor, Wayne State University/Michigan State University

Dr. Patel is a board-certified anesthesiologist who completed his medical training at the University of West Indies, Kingston, Jamaica and subsequently finished his Anesthesiology training at Wayne State University/Detroit Medical Center. Dr. Patel is certified in advanced perioperative echocardiography. Dr. Patel assists in the presentation at the annual Difficult Airway Course. Other teaching activities include lectures, oral board reviews and clinical instruction to medical students/residents. Clinically, Dr. Patel's major interests are neuroanesthesiology, cardiothoracic anesthesiology and ultrasound guided regional anesthesia.
Anesthesiology Residency Program