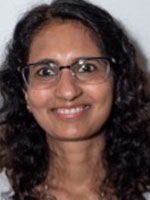 Padmavathi Patel, M.D.
Medical Director, Northstar Anesthesia at Veteran Hospital
Detroit Section Chief of Anesthesia , John D Dingell Veterans Affairs Medical Center
Clinical Assistant Professor, Wayne State University

Dr. Padma Patel is a board-certified anesthesiologist and completed her residency at Henry Ford Hospital in Detroit. Her area of interests include: OB Anesthesia, Regional Anesthesia for Orthopedic and Plastic Surgery, Endovascular Anesthesia and Robotic Anesthesia for Thoracic, Urology and ENT.
She is the Site Director for Anesthesiology resident training at VA Medical center and actively involved in residents training.
She works on research projects like battle field acupuncture for post op pain and traditional acupuncture for postoperative pain with hip and knee replacements. Dr. Patel is actively involved in the Out of Operating Room Airway management training, Pain committee, CPR committee, and surgical service line to provide great veteran's care at VA Medical center.
Dr. Patel is also a member in DMC ethics committee.
Anesthesiology Residency Program