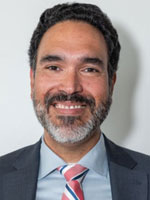 Miguel Morillo, M.D.
Regional Chief Medical Officer / Vice President of Physician Operations; NorthStar Anesthesia
Dr. Morillo completed his anesthesia residency as well as an anesthesia cardiothoracic fellowship at the Cleveland Clinic. He then completed a pediatric cardiac anesthesia fellowship at Boston Children's / Harvard Medical School. Dr. Morillo is board certified in both Anesthesiology as well as Pediatric Anesthesiology.
Dr. Morillo's interests include anesthesia for adult/pediatric congenital heart disease, transesophageal cardiac echocardiography, regional anesthesia as well as multimodal perioperative analgesia.
Anesthesiology Residency Program