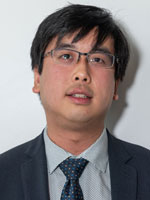 Eric Hsu, M.D.
Department of Anesthesiology, Harper/Hutzel Hospital, Sinai Grace Hospital, Receiving Hospital
Head & Neck/Advanced Airway Liaison
Director of Anesthesia Equipment
Clinical Assistant Professor, Wayne State University School of Medicine
Clinical Assistant Professor, MSU
Dr. Hsu is a board-certified anesthesiologist who completed his Anesthesia residency in Advocate Illinois Masonic Medical Center, and pursued a fellowship in Head & Neck/Advanced Airway at University of Michigan. Dr. Hsu's areas of research interest include novel approaches in awake fiberoptic intubations, airway blocks with ultrasound, and proficiency in adult high frequency jet ventilations. He is a liaison between the various ENT services across the DMC campus. He is also the director of anesthesia equipment and maintains a keen interest in staying up-to-date with airway products currently out in the market.
Anesthesiology Residency Program