Gwen Britton's RiverWalkers Testimony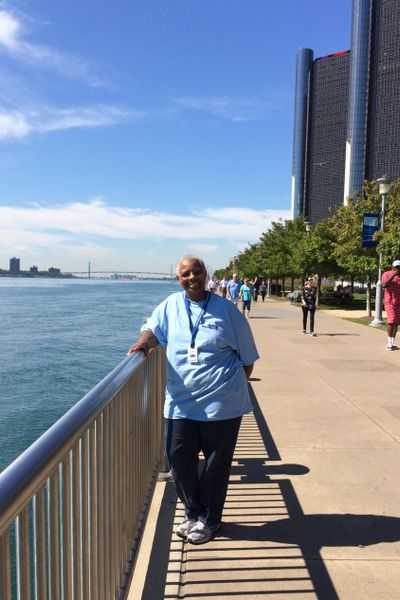 For 7 years, Gwen Britton has been one of the many volunteers who has donated her time and heart to the Detroit Medical Center's RiverWalkers program. She is retired after working 40 years for the government and enjoys reading, traveling, and volunteering. She began volunteering with RiverWalkers after participating as one of the walkers herself. Seeing the camaraderie between both the participants and volunteers prompted her to volunteer in the program.
Gwen says that the first day of RiverWalkers reminds her of seeing your friends on the first day of school. "During the kick off, you see people coming out after being shut in during the winter season. For many this is the first time they've seen their fellow RiverWalkers in since the last season. It's a heart warming experience watching them hug each other and to see their smiles and laughter on their face," Gwen said.
Being a part of the DMC's RiverWalkers program has not only positively impacted her life, but it has also had an effect on her family as well. They now get together frequently and walk the Detroit Riverfront. She describes it as a "humbling experience" to be able to watch the sunrise over the river. Meeting and interacting with the participants and other volunteers is Gwen's favorite part of the program.
Gwen has not only developed great friendships while donating her time, but she also appreciates the wealth of knowledge she gains from being part of the program. "Everytime I encounter a new participant, health expert or volunteer at RiverWalkers, I learn something new. You know they say as long as you live and breathe you're supposed to learn something new each and every day whether it is large or small. I always walk away with additional knowledge... I truly enjoy it" Gwen said.
To those interested in joining the DMC RiverWalkers program, Gwen has the following advice: "Come out and give it a try. Be open. The riverfront is welcoming and inviting to each and everyone no matter what your limitations are. I see people walking with oxygen tanks, people using walkers, scooters, and wheelchairs. Just come and be prepared to enjoy yourself."