Revised Screening Guidelines Give New Hope to Lung Cancer Patients
Jun 15, 2022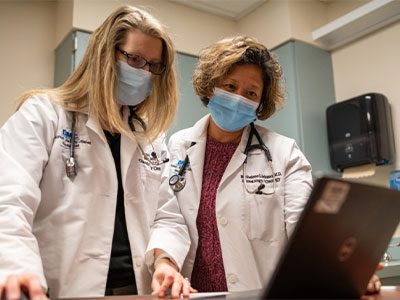 Zvi was all smiles when he left the Charach Cancer Treatment Center at DMC Huron Valley-Sinai Hospital in mid-January 2022. It was his last day of chemotherapy to treat his lung cancer and he was hopeful for the next chapter of his journey.
Zvi was diagnosed just a few months earlier and said he considers himself lucky. With new lung cancer screening guidelines, his doctor recommended screening and his cancer was caught while it was still localized to his chest and lymph nodes. By catching it before it spread further, he had more treatment options and a better chance of managing it.
The Centers for Medicare and Medicaid Services (CMS) approved new recommendations for lung cancer screenings. Anyone 50 to 77 years old with no symptoms should get screened once a year if they smoked an average of a pack a day for the last 20 years or two packs a day for the last 10 years, currently smokes or quit in the last 15 years. The screening takes about five minutes and can be ordered by a primary care physician.
"One of the first doctors I talked with after being diagnosed was Dr. Liebman, an oncologist at Huron Valley-Sinai Hospital," says patient Zvi. She had answers to all my questions and provided such a good impression; there was no need for me to get a second opinion."
"Designated as a Lung Cancer Screening Center by the American College of Radiology, we understand and advocate the importance of lung cancer screenings," says Dr. Michelene Liebman, board-certified Hematology and Medical Oncologist at the Charach Cancer Treatment Center. "We hope to capture more people in early stages of the disease so treatment can be more effective to improve survival."
Zvi will continue with radiation treatment. He's grateful for the compassionate care the team continues to provide during his treatment.
"I would encourage other people to ask their doctor if they should be screened for lung cancer. I'm glad my doctor recommended it and I'm glad the Charach Cancer Treatment Center is here to help," says Zvi.
Click here to learn more about cancer services at DMC Huron Valley-Sinai Hospital.