Father's Day Twins Present Unique Challenge for NICU Staff
Jun 6, 2019

Caroline & Lucas arrived early on Father's Day 2016, presenting complex challenges to their medical team. Today, they are home -- happy, healthy and loving life!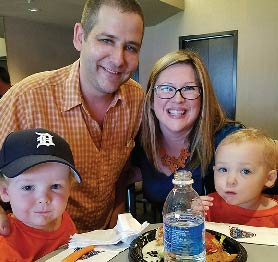 On June 15, 2014, (Happy Fathers Day!) nearly two months early and after a challenging pregnancy, including bed rest at 19 weeks, numerous hospital stays, and lots of doctor visits, our beautiful twins came into the world. I was already admitted at Hutzel 3 days prior as my water had broken with Caroline, not Lucas, so we had hoped and prayed to keep these babies in as long as we could. But, on Fathers Day 2014 these babies were ready!
First came Caroline at 9:15 a.m. and she was very quickly whisked away by the Hutzel NICU team to be cared for. Then came Lucas, at 9:16 a.m. Harley, my husband, was able to hold him for just a brief moment, and I was able to hear him cry, before he was also taken to the Hutzel NICU. She weighed three pounds, 11 ounces and he was three pounds, seven ounces, a good size in the preemie world and especially with twins.
| | |
| --- | --- |
| | |
| Lucas | Caroline |
The weeks ahead would prove to test our endurance, strength and our faith as these two little miracles fought for their lives, with the help of the dedicated nurses and doctors of the Hutzel Women's Hospital and Children's Hospital Neonatal Intensive Care Units (NICU) --those who had done so much to care for the twins during that precious time, those who let us hold our little ones for the very first time, cords, monitors, tubes and all. Being able to hold the babies so closely and bond with them when they needed us most meant so much.
At barely 3 days old, Caroline developed a spot on her tiny ankle and needed to be followed by a Pediatric Plastic Surgeon at Children's. PANDA ONE arrived to take her to CHM. It was overwhelming. I remember this group of people swooping into my hospital room, with our tiny baby girl in a huge transportable isolette, to take her to CHM NICU. They explained everything, and could not have been more compassionate and empathetic. We were grateful that it was only a short tunnel walk from Hutzel to CHM to see her.
After only a couple of days at CHM, came the hardest part in this journey when at five days old, Caroline stopped breathing - she coded. They were able to get her breathing again, but she was intubated and would have tiny bruises from the chest compressions done to save her life. Thank you with all of my heart to those doctors and nurses at the CHM NICU where she spent two weeks being cared for. She made progress every day until she was transported by PANDA ONE back to Hutzel to join her brother, this time in the space right next to him in the Hutzel Special Care Nursery. It was fantastic that not only were they together, but they had graduated to the Special Care Nursery from the NICU!
They continued to grow and thrive, with slight setbacks along the way, but they were getting stronger every day.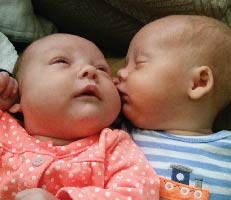 Caroline and Lucas come home.
Lucas had trouble breathing on his own; weaning off the oxygen was like one step forward, 2 steps back. On July 18, at five weeks old, Lucas was able to come home with us. It was bittersweet to leave our little girl behind as we took this next step with our new family. We knew it would not be long before she would come home with us too. She had proven time and again in her short life that she was a fighter! With heart rate dips delaying her discharge, on July 28th, Caroline joined her brother at home. It's been onward and upward every day since.
Today, nearly three years later, you would never know the struggles these happy toddlers endured in their first weeks of life.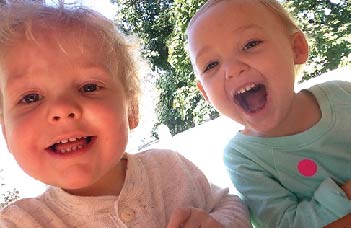 Lucas and Caroline today.
Caroline loves Disney princesses and wearing her girly dresses! She loves singing, dancing, painting and playing in her clubhouse! Lucas is into building things with Legos, splashing in puddles, riding his bike and climbing everything! Both loving life!
This was anything but an ordinary pregnancy and I know we would not be here today if not for the dedicated folks at Hutzel, Children's and Sinai-Grace.
Starting with my OB, Dr. Cristina Alfieri, who guided us on this journey from my very first appointment with her almost 5 years ago. THANK YOU.
We are so blessed and thankful every single day as we watch our kiddos continue to grow into the beautiful little people they're becoming.